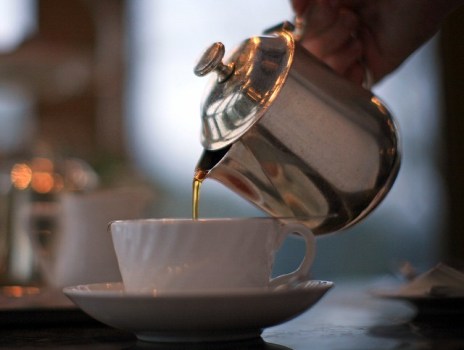 Teacup
There are several Royal-Tea events going on around the Golden State on Friday, July 8.
PIP PIP SIPS: California has long welcomed newlyweds in a variety of ways. Disneyland has those cute bride-and-groom-ish mouse ears, and various beach hotels offer "Just Married" packages. But welcoming newlyweds who just happened to have recently had one of the most-watched weddings in the history of weddings? That is another matter entirely. With that in mind, the California Travel & Tourism Commission will host a number of "Royal-Tea" events around the state on Friday, July 8 to celebrate the arrival of the Duke and Duchess of Cambridge.
BRIT BEVS: Several California Welcome Centers are participating in the event (the tea is courtesy of Coffee Bean & Tea Leaf and is English Breakfast, natch). Molly Sims hosts the grand kick-off in Beverly Hills. Check with your local Welcome Center on times and to make sure they're hosting a Royal-Tea (we'd also pick up a ton of brochures, gratis, for our next trip; love those Welcome Centers lots). Wouldn't it be funny if Will & Kate happened to pop by a Welcome Center to join in? Certainly royal fans can dream.