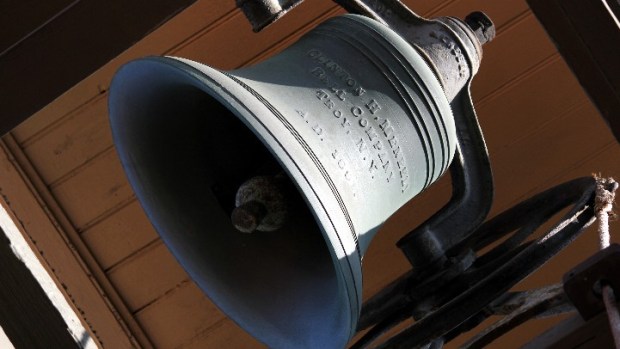 Winchester Mystery House
Special guests stopped by the Winchester Mystery House on Friday, Jan. 13 to ring the bell (at 13:00, of course).
THE NUMBER 13: Fans of the Winchester Mystery House -- and they are legion, in California and around the globe -- know their Sarah Winchester facts down to the letter. They know that the mistress of the legendary San Jose mansion regularly consulted with spiritualists and that she kept those saws and hammers going by sun and by moon. And the number 13? Mrs. Winchester certainly had an affection for it. The greenhouse sports 13 cupolas, and the landmark just happens to boast 13 bathrooms. So when a Friday the 13th arrives, bet there's a tradition in place at the attraction. And there certainly is: The Winchester rings its bell in honor of its namesake 13 times at exactly 1 p.m., which, of course, is also known as 13:00. Adding to the spirit of the day are the special guests who show to do the ringing honors; the Friday, Jan. 13 bell-ringers included Mercury News writer Sal Pizarro, and Olympics gymnastics coach and gold medalist Bela Karolyi and Shannon Miller.
MORE FRIDAYS AHEAD: If you weren't able to turn out for the Jan. 13 ceremony, take heart: There are two more Friday the 13ths to go in 2012. Mark your calendar for April and June, and make time in your evening, too; the Winchester offers flashlight tours every Friday the 13th, in addition to all of its October nighttime events. So, fans: What do you think Sarah Winchester would think of the ringing of the Friday the 13th bell, a tradition that began at the house in 1976? We'd have to believe she'd find it very lucky indeed.