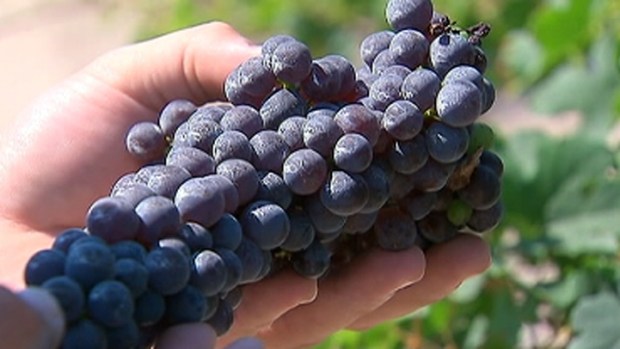 Grapes
Heading for the wineries of the Santa Cruz Mountains in early June? You'll be in the Roots That Rock swing (meaning tastings, tunes, and happy sipping hubbub).
HELLO, SUMMER: It doesn't matter if you wrapped up college two years ago or you haven't stepped foot in your old schoolroom for a half century: June is amazing. Like, amazing, and, yes, we'll pull out that big, overly used word for the occasion. The start of summer feels like the start of something big, even if you didn't just get out of classes for three months of vacation. With that in mind, it is so, so, so nice of the Santa Cruz Mountains Winegrowers Association to throw their Roots That Rock celebration at the very start of June. And let's add another "so" into the mix when we say it is so, so, so, so nice of them to make the celebration last over two full weekends. And, yep, it is so, so, so, so, so nice -- we had to go for five there -- that over fifty wineries are participating, and that there will be a Downtown Santa Cruz Street Faire on the final day.
WHERE TO GO WHEN: How both weekends -- that's June 1 and 2 for weekend #1 and June 8 and 9 for weekend #2 -- are broken down, schedule-wise, is a snap to remember. That first weekend? It's all about the wineries of Santa Clara and San Mateo Counties. The second weekend? Santa Cruz County all the way. As mentioned, there are over four dozen winemakers in all, so you'll have your pick. Barrel tastings are a part of the weekends, hooray, as are behind-the-scenes tours for lookie-loos. (Which is probably 100% of us, let's be honest.) There are more special happenings, including music and entertainment and art and such, but the biggest has to be the downtown street party on Sunday, June 9. An advance ticket -- cost: $40 -- gets you four days of wine-ing around and entrance to the Street Faire. Are you doing all four days? Of course. It's the start of June and summer vacation. Okay, granted, most of us grown-ups do not get summer vacation, but we never lose that excited spirit, a spirit that is most on display come early June. Thank you, Santa Cruz Mountain Winegrowers, for remembering that.