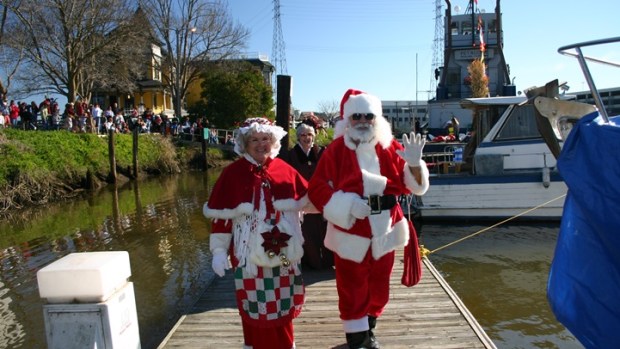 Giuseppe Lipari
Mr. and Mrs. Claus make their annual Petaluma arrival by boat. Ready for the riverside tradition? Be there on Saturday, Nov. 30.
BEYOND THE SLEIGH: Far be it from us to only assume Santa Claus travels by sleigh and train. We know, those are two of the modes of transport most associated with a certain Mr. Kris Kringle, but greeting cards and t-shirts and cartoons tell us otherwise. Sometimes the Jolly Old Elf likes to arrive by bright red convertible and sometimes by aeroplane and sometimes via a sled pulled by mushing dogs and sometimes on foot. But in California? Yep, it is very often about the water when it comes to Santa's annual debut. Look to Capitola, where Surfin' Santa appears via outrigger canoe (and sporting a Hawaiian shirt to boot). And look to Petaluma, where Mr. and Mrs. Claus smile and wave from the deck of a riverboat
YEP, A RIVERBOAT: Suddenly this mode of transportation seems to be just about the most Christmassy of arrivals to us. Sweet, snug, and ready to blow its horn? Yeah, that seems pretty storybook-like to us, something we might find under the tree (complete with a riverboat toy). The big day is Saturday, Nov. 30, and the Clauses will disembark at the Historic Downtown Riverboat Harbor "about noon." After that? Candies shall be handed out, performers shall perform, and a waving walk'll wend through downtown Petaluma. It's all frankly festive, and very NorCal, what with the watery arrival. And, indeed, Santa's been spied wearing shades in the past. Also a California thing? Very much so. But we should mention this: Mr. and Mrs. Claus will board a sleigh once on land, lest you think they've completely given that up. It's good to mix up offbeat arrivals with a little traditional sweetness, after all.