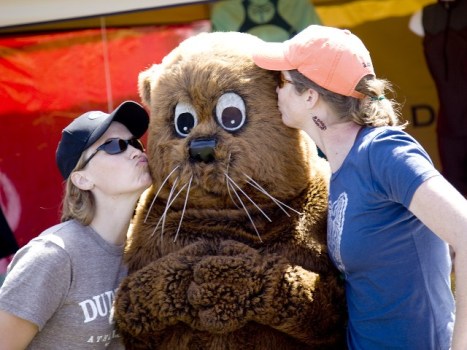 Chris Worden
The Sea Otter Classic is on from April 14 through 17 in Monterey.
PEDAL FEST: Is there anything the sea otter *can't* do? Apparently if he's based in or near Monterey, the answer is no. Mr. Sea Otter was last spotted playing a tuba at Dixieland Monterey's Jazz Bash (okay, to be fair, it was a cartoon version). Now the bewhiskered ocean superstar is serving as the ambassador of the Sea Otter Classic, a two-decade-old cycle-fest that's happening from Thursday, April 14 through Sunday, April 17 in the sea otter's home-away-from-waves, Monterey.
SPOKELY FAQ: Some 50,000 fans show to watch competitive racing (mountain bikes and road bikes get the spotlight). There are also all sorts of other bikely events dotting the weekend's calendar, including barbecues, bike demos, and stunt shows. Wheelie-poppin' time! Why do we suddenly have the image of otter doing that move where you go up on your front wheel and freeze for a moment? Well. That's not going to happen, but we can dream. There will also be several vendors at what the organizers call "the largest consumer bike exposition in North America." Bike people, start your, um, pedals.