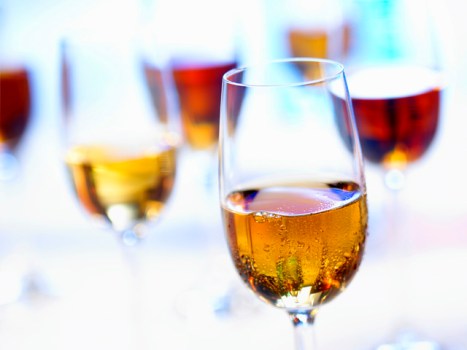 Getty Images/Foodcollection
Celebrate sherry in Petaluma.
OH SHERRY: How often do you find yourself agreeing with something on Facebook? Now and then, right? But we can all agree on the sentiment that appears on the Sonoma Valley Portworks profile picture. It's "Drink Dessert," and, honestly, sometimes all you want at the end of a lavish summer is a finger or two of something rich and sweet. Enter sherry, and port, and all of their thick, syrup-like cousins. If you feel like you haven't visited the sherry family as often as you like, that can be corrected over Memorial Day Weekend 2011. Sonoma Valley Portworks has three afternoons devoted to the dessert-y drink and all of its pluses.
CHEESES, NUTS, AND SIPS: The port-tastic Petaluma spot will be hosting DUET tastings each afternoon of Memorial Day Weekend, and there will be little snacks involved to stoke the appetite. We're also intrigued by the idea of the sherry cocktail that Portworks will be mixing up.