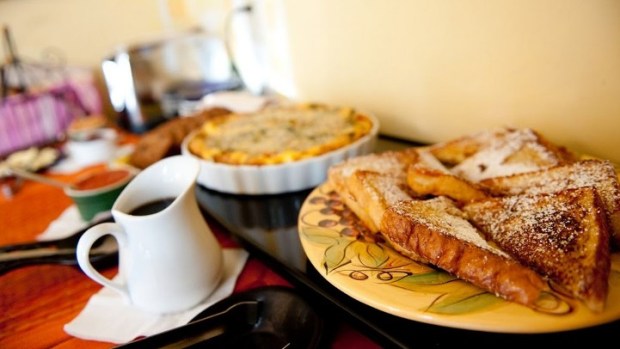 Four Sisters
Breakfast at the Blackbird Inn.
BUSY FALL: It's a fact that some people really dig all the crushery that happens every autumn in wine country. The back-of-the-house tours and the vine walks and the hands-on demos open to the public. It's busy and buzzy and just about every winery has something going. But then a quiet falls. Well, it isn't a true quiet, of course -- wine country never rolls up the vines and calls it a season -- but, around November, life calms down. Which makes the Sip, Savor and Stay package being offered at three Four Sisters properties appealing. It's a fall/winter package -- we're already lacking -- and the emphasis is on "savor." There won't be rush-rush-rushing about but rather a chilled-out tasting at V. Sattui Winery. You'll also nab a V. Sattui gift certificate; we'd use it to buy picnic fixins. Then we'd enjoy said fixins on the pretty winery grounds. Ah. No bustle-bustle here. No crush-loving crowds. Just you and a baguette and a hunk of Gouda.
THE INNS: The participating Four Sisters properties include Lavender Inn, Blackbird Inn, and Maison Fleurie; they're all around Napa and not far from V. Sattui. You'll get an overnight at one of the Napa stay-overs, and a crack at the breakfast buffet, too. Plus use of the inn's bikes to toddle around the countryside, sans September-October crowds. It starts up in late November and runs through late March; prices kick off at $135 and stop around $220. Just don't be sad you're not in the crush madness. It's fun, but savoring what comes just after is a pleasure, too.