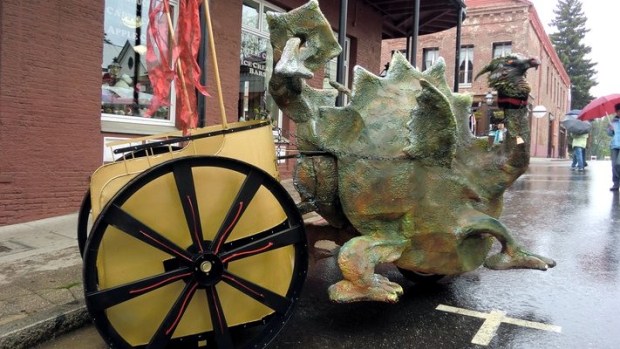 Nevada City Soap Box Derby
The Nevada City Soap Box Derby is on Saturday, June 18.
FAST AND FUN: People into the art of the soap box car will travel great distances (typically in vehicles with engines, but we won't assume) to see an old-fashioned derby go down. Old-school derby races don't come around too often, although we seem to be seeing them more and more, which is terrific. But distances do not matter when it comes to vintage-sweet Nevada City, which we will go all travel-brochure-y over and call a true jewel of Gold Country. In fact, does one need a reason to go to the N.C.? Do people who live there call it the N.C., all catchy-like and cool? Suddenly we want to, but we fear we may never be welcomed back.
ABOUT THOSE SOAP BOX CARS: Nevada City -- not the N.C. -- will hold its very first Soap Box Derby on Saturday, June 18; the cars are already looking mighty fine (see the dragon and chariot above). The organizer hinted at the hospital's entry, which involves giant syringe. There will be over 40 cars, so bet you'll find a favorite. And if you spend the night in town, we bet you'll be hanging around to catch some of the 51st Annual Nevada City Bicycle Classic. It's called "the largest and oldest bike race on the West Coast," and we're betting it's a Father's Day staple for race fans around the region.
TWO RACES, NO ENGINES: Just people power. Nice, Nevada City. But then you always have a way of doing things that we like. (Yeah, we went travel-brochure-y again, but that cannot be helped in where things of a Nevada-Cityan nature are concerned.)