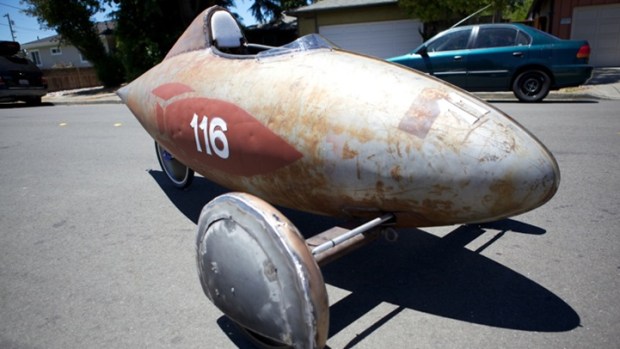 San Jose Adult Soapbox Derby
The San Jose Adult Soapbox Derby vrooms on Aug. 30, 2014. Wanna try your hand at building and racing? Register now.
SUMMER WHEELS: Cars are driven in the wintertime, it's true, but the spirit of automotive travel belongs solely to our warm weather days. Films like "American Graffiti" and other blacktop cruisers tend to be associated with the middle-of-the-year months, as do the state's more offbeat cruise shows and unusual vehicle events. Maybe we're all in a tool-around-without-aim mood, on the lookout for a burger stand we can pull up to or a bluff from where we can park and watch a late sunset. The kinetic championship, the one that rolls in Humboldt County, gets the weird-meets-wheels ball rolling over Memorial Day Weekend, Nevada City's Adult Soapbox Derby vrooms on the first day of summer, and rounding out the end of August, or nearly, on the Saturday of Labor Day Weekend? A new soapbox spectacular making its way into San Jose. It is, in fact, called the San Jose Adult Soapbox Derby, and it is spinning down Silver Creek Valley Road on Saturday, Aug. 30.
TEMPTED TO JOIN? The Derby is ready to welcome "25 Speed Cars, 25 Art Cars, and 10 Ultimate Cars" as part of the field. This means that even if you're not into pedal-to-the-metal-ing it, you can go the art car route (and if you've ever seen a soapbox event, you know the art cars get way, way whimsical). Organizers behind the event saw a dearth of soapboxy action 'round the Bay Area and wanted to add some gravity car love to the region (yep, the wee vehicles rely on people power, and downhill-o-sity, to make things go, go, go). And the total build amount that participants can spend on their car? Five hundred bucks, so ingenuity is key. Want to join in, watch, root on the teams, or get involved in another way? You can. Figure a true old-school soapbox scene is a fine way to send summer out, that most classic of seasons devoted to the spirit and pleasure of cars in all of their quirky forms.