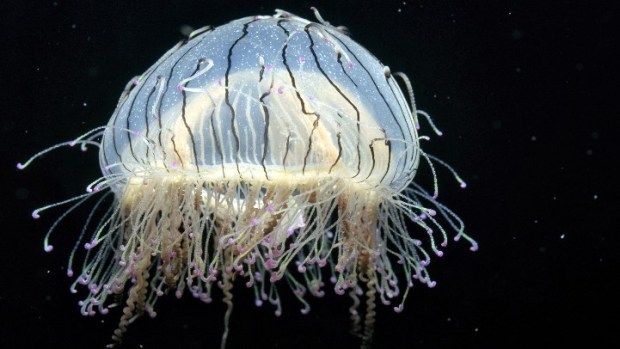 Randy Wilder/Monterey Bay Aquarium
Mad for jellies? Float for the Monterey Bay Aquarium over the Nov. 2-3 weekend.
UNDERWATER CALENDAR: One could say, with some degree of confidence, that jellyfish do not keep calendars. At least the sort of calendars we humans keep, the kind that go on the refrigerator and get covered with dentist appointments and pizza parties. But if they did, the jellies might find it amusing -- if jellies got amused -- to learn that their annual Jamboree weekend is snug up against Halloween. The diaphanous floating wonders of the deep aren't particularly scary, but they have become mythical, and if you haven't been to at least one dress-up bash where someone arrived in a jellyfish costume, well. You might need to go to more Halloween gatherings. And while we'd never want the jellies' rep for being mysterious and maybe a little bit eerie to go away, we do want to get to know more about them. Which makes the Jellyfish Jamboree at the Monterey Bay Aquarium the ideal weekend for the knowledge-hungry jellyfishest. And, indeed, it does happen snug against Halloween, on Saturday, Nov. 2 and Sunday, Nov. 3.
BEHIND-THE-SCENES TOUR: Jellies will take centerstage -- or, um, centertank? -- throughout the special weekend, and visitors will enjoy "special presentations" as well as tunes and chitchat with "jelly aquarists" (we so want that on our business card). But the behind-the-scenes tours are really must-dos, given that you'll learn how the aquarium tends to its frilly-edged, glow-pretty superstars. We're pretty sure the caretakers don't get the little box of flakes out and sprinkle a few on top of the jellies' waterline (though we could be wrong, which is why we want to be schooled on all things jelly). Ready to learn about one of the planet's most out-there beasties and just days after Halloween, too? Float for Monterey, jellyfish fans.