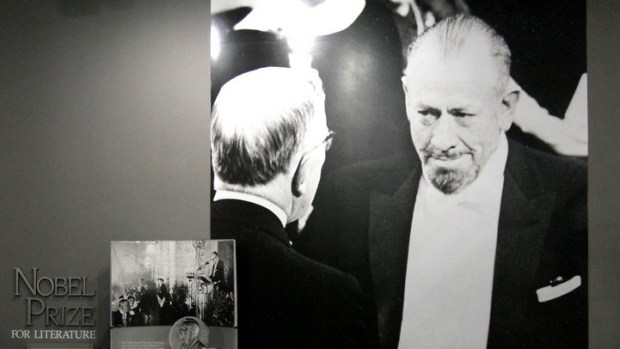 National Steinbeck Center
The 31st Annual Steinbeck Festival is on from Thursday, Aug. 4 through Sunday, Aug. 7 in Salinas.
STEINBECK SOIREE: As book-loving gatherings go, the annual Steinbeck Festival is surely one of weathering-of-time. It is marking its 31st outing in 2011, and while there are numerous reasons for its longevity -- chief among them is a devotion to its namesake author and his works -- we'll guess that it has a lot to with its breadth. For not only are John Steinbeck writings considered but works by other authors as well. And the themes intrigue as well; "Friends & Foes" is the topic for the 2011 get-together, so expect nice people in lit and those juicier characters that tend to stir up various nests.
PAGE ONE: You'll want to be in Salinas, of course, for all or part of the four-day festival; the dates are Thursday, Aug. 4 through Sunday, Aug. 7. Highlights are plentiful; Jane Smiley is on the roster, as is a pub crawl on Cannery Row. Are there five more magical words than "pub crawl on Cannery Row"? They're not coming to us at the moment, if such words exist. We're also interested in the graphic novel workshop and the drawings inspired by "Of Mice & Men." What a truly happy moment for Steinbeckians, and for all lovers of litly hoedowns. And hands in the air for Charley, right? Supreme Poodle love and all that.