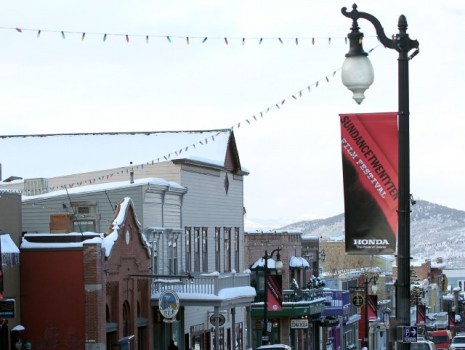 Getty Images
The Sundance Film Festival opens in Park City, Utah on Thursday, Jan. 17.
THE ONE: The Sundance Film Festival, according to its many observers, has gone through about 98 distinct eras in its three-decade-give-or-take history. There was the time when it embraced only the edgiest directors, then the auteurs, then the edgy auteurs. Then the stars arrived, and the mega stars, and the party scene. Then the edgy directors were back, and the truth-telling writers, and the fearless actors. You may think we just summed up thirty years, but, as some would tell it, that could all encompass a single week of time at the world's most famous independent film festival. We like that people get a bit mouthy about the mega cinema extravaganza that lands in Park City, Utah every January; it means they're passionate and feel a bit of ownership over the process. And, really, those tend to be the things that last in life, the things people get worked up over. We're now entering high gear on the Sundance front, too: The 2013 festival opens on Thursday, Jan. 17 and runs through Sunday, Jan. 27.
HAPPENING: Joseph Gordon-Levitt is one of the big names this year; he's set to helm the awards ceremony (and a charming host he'll surely be, if we do say so). "Austenland" is in competition -- Jane Austen super-fans gather to Austen it up -- as is "In a World," a look behind the microphone at voice-over artists. Shorts, documentaries, talks, and random run-ins on the streets with your favorite cinematographers are all part of the larger action, as are the big-vision'd people happily extolling their films, both big and small. Yes, people might occasionally call it a bit of a circus, but circuses have been around for a long time right? Sundance keeps it colorful, sometimes controversial, and always lively, so its staying power is also assured.