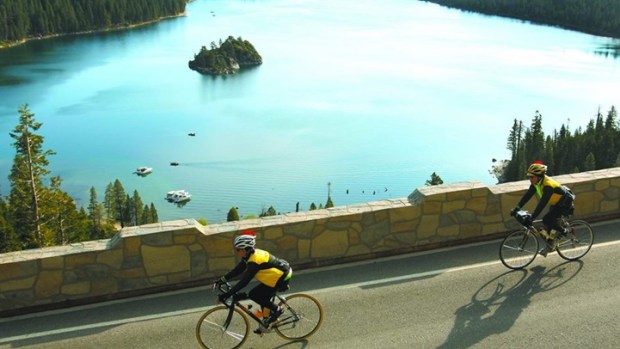 America's Most Beautiful Bike Ride
Pedal 72 miles around Lake Tahoe, and in two states, for an important cause? That's America's Most Beautiful Bike Ride, and it rolls on Sunday, June 1.
SHARED THOUGHT: It's a passing notion that every bike-loving visitor to Lake Tahoe has probably had at one time or another: What must it be like to circle the big water by bike? Cycling and the region are a longtime twosome, it is true, but the chance to pedal Tahoe with hundreds of other riders, and support an important cause, rolls along only every so often. It will again, on Sunday, June 1, when America's Most Beautiful Bike Ride takes the roads of Tahoe country. The beneficiary of the day? The Leukemia & Lymphoma Society. The organizer? Bike the West. And the much-touted route? Seventy two miles around Lake Tahoe. The ride "circumnavigates the highways clockwise around Lake Tahoe in both Nevada and California" and includes "a challenging 800-foot climb to a rest stop overlooking Emerald Bay..." Yeah, you're likely familiar with that rest stop, if you've been to Emerald Bay by car, and you know it will test the calves and the spirit in all the good and you-can-do-it-ways (and you'll be so glad you did). There's also a 1,000-foot climb to Spooner Junction, too. But it is views you want? And that crisp Alpine air? You got it, cyclists.
HOW TO SIGN UP: Online registration is closed, but late/same day registration is available on a "limited basis." Not planning to ride this year but want to support The Leukemia & Lymphoma Society? There's a link. Want to ride but hoping there's a longer deal, perhaps a Century Ride, and maybe a shorter roll, a fun ride if you will? Both of those options exist at America's Most Beautiful Ride. Want to know what else is happening around Tahoe that weekend? So much, what with the start of the unofficial summer season and all. Happy rolling, lake circumnavigators.