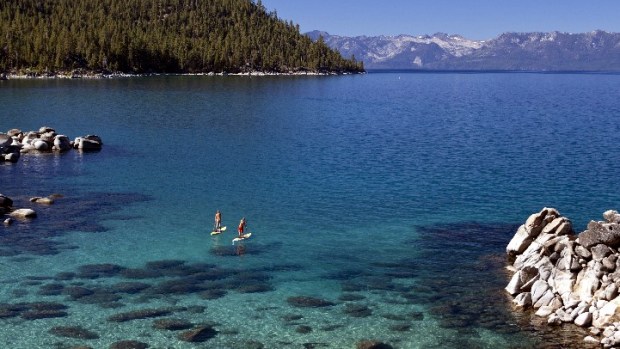 Tom Zikas
Learn how to stand-up paddle board at North Lake Tahoe.
THIS IS THE SUMMER: Right? This is the summer. The "dot dot dot" following that statement is implied. This is the summer you'll actually take a full week off, rather than a couple of weekend-close days. This is the summer you'll try and learn something new. This is the summer, dot dot dot. We'll throw "stand-up paddle boarding" behind that dot-dot-dot-ing. It's not just a celebrity pastime (although it is hard to open a magazine and not see a famous person riding the waves around Hawaii or Malibu), but a much-loved pursuit undertaken by H20 enthusiasts and weekend athletes alike. And it just so happens that we have "the largest stand-up flat water paddle board venue in the country" nearby.
LAKE TAHOE: There are several rental shops and outfitters around North Lake Tahoe, but if you've never tried it, lessons are in order. The Ta-Hoe Nalu SUP Experience is a new educational outing which provides a loaner board and learning, all for thirty bucks (there are some other additionals, like a lunch ticket). If you feel like you'd rather watch expert paddle-boarders rather than take to the lake yourself, best get to King's Beach over the Aug. 13-14 weekend for the Paddle Festival. Yeah, the people pictured here looked like they might have done this once or twice.