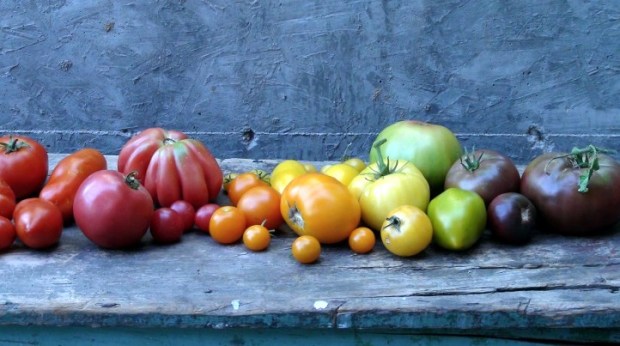 TomatoMania!
TomatoMania! is once again on tour. The tomato-centered seedling sale has 2012 stops in Encinitas, Westwood, Sonoma, and Ojai.
SPRINGTIME ROAD TRIP: Summertime may belong to the monster concert festival tour but the springtime road trip? It's about vegetables, or more specifically, if you're in California, heirloom tomato seedlings. Each and every year, when we see TomatoMania! come back around, we think two things: We love that there's a full-on, nearly state-wide tour devoted to the juiciest of seedy fruits. And two? We think we'd like to be eating a yellow-streaky heirloom that's covered in chunky salt and mozzarella shreds. But first things first: TomatoMania!, complete with its happy exclamation point, is on now, and it is likely hitting a spot that isn't too far from your own tomato patch. It is making for the San Diego Botanic Garden on Saturday, March 17 and Sunday, March 18, and other places north of that on later weekends (think Westwood, Ojai, Sonoma, and pretty much everywhere else where California tomato-eaters reside).
SEEDLINGS X 1000: There will be a lot of seedlings to eyeball at this thing, so come with your gardener's eye. Us? We like browsing the colorful site, where we can pick up recipes like Tomato Soup Cake. What the? We pre-love it. TomatoMania! bills itself as "the world's largest (and most fun) heirloom tomato seedling sale," and that's all we need to know. We like a world's largest anything -- well, pretty much -- but if it can possibly end in a savory salsa, we're on board.