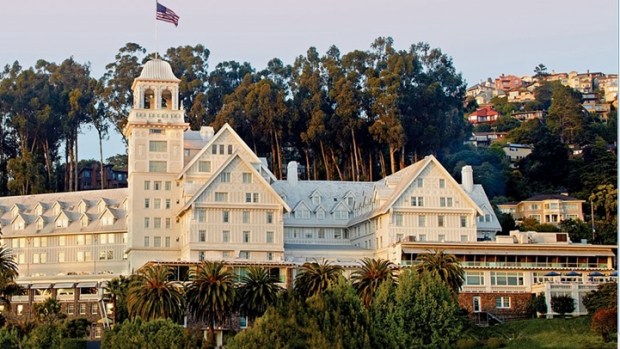 The Claremont
The Claremont Hotel Club & Spa is offering a "Beat the Heat" package for summer. Meaning? Hello, trio of pools.
FLOWERY SWIM CAP: Even if you've never donned a swim cap in your life -- maybe you like to let your hair flow free, under the waves, as you backstroke across the perfect glimmer-clear pool -- you almost feel as though you should rock one whenever you visit a landmark vintage-cool hotel. Is it because nearly ever photograph from the 1950s and '60s taken at a hotel pool tends to feature a starlet rocking one of those over-the-top, petal-bedecked accessories? Could it be because flower swim caps come in an array of hues, all pretty eye-popping and retro, and wearing one just makes you feel as though you fit in with the hotel you're visiting? Whatever your reason is behind the stylish sartorial choice, you'll want to stock up on a few before making for The Claremont Hotel Club & Spa, which has a Beat the Heat package on for the summer. "For the summer" means through Sept. 1 -- that's Labor Day, and the end of the unofficial summer season -- and the Beat the Heat bit refers to the Berkeley landmark's three mineral-treated outdoor pools. Yep, it is rather nice when a warm-weather getaway features a few posh swimming holes, the very kind of places one rather likes to be seen wearing a flowery swim cap.
INCLUDED... in the fee -- that starts at $269 -- is parking, or rather parking is waived, so that's sweet, and the facilities fee (hello, fitness equipment and classes). But, seriously, you'll probably be wearing your flowery swim cap, and reading your novels, and lounging on a plush towel, and pretending it is a half century ago as you gaze up on the old burg of a grand hotel from your spot in the shallow end. Shouldn't we all take our chance to play a Hollywood star or starlet once? While visiting a swanky hotel? During a hot summer day? And can't Berkeley stand in for Tinseltown? And don't you need a polka-dotted maillot to go with your swim cap? And over-sized sunglasses? Playing the swimming pool starlet takes some real effort.