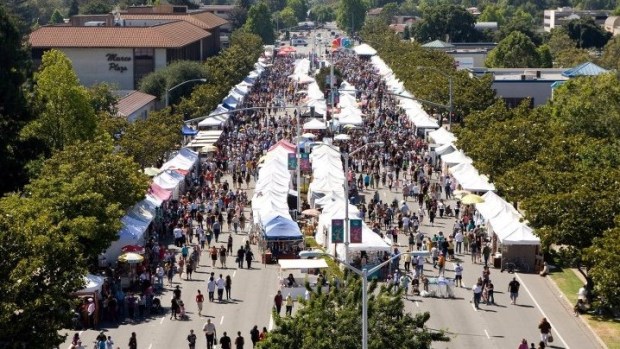 Fremont Festival
The Fremont Festival of the Arts unfurls through central Fremont on Saturday, Aug. 4 and Sunday. Aug. 5.
LARGE. REALLY LARGE: How many people regularly visit The Fremont Festival of the Arts, which is set to unfurl through central Fremont on Saturday, Aug. 4 and Sunday, Aug. 5? "A lot" doesn't suffice, especially when the street fair has the big self-billing of "...the largest two-day street festival west of the Mississippi..." Please. That's large. And if you want numbers, try this on and strut about: Attendance is placed at over three-hundred thousand people. Meaning? There has to be a lot there. And there is; over 600 artisans and craftspeople and vendors set up the card tables and eats and jewelry and handmade tees.The average beers-poured number is also huge and charmingly specific: 23,552. Do you want to be responsible for that number 2 on the end, when you buy for you and your bud? Then get the specifics.
DIRECTIONS AND DOUGH: It's in central Fremont, as mentioned -- if you can get to State Street and Mowry Avenue, you're there. You want to go BART, right? Yes. The station is two blocks away, says the site. Best not to mess with parking if possible. As for the "dough" part? Yeah, this thing is totally free, so hang onto your cash for the beer line and the ice cream bars and the eats and the unique stuff you buy and take home to gift but ponder whether you should keep yourself because you like it so much. Oh, the fest has a lot beyond the beer and artisans -- there's a Kid City, tunes, performances, margaritas, more eats, and more eats beyond that. It's August. Have you done an out-sized street fair yet? Summer's dwindling.
(bottom photo: Gerry Mooney)