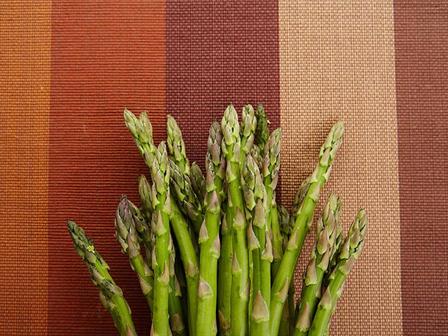 Asparagus
The Great Asparagus Dine-Out opens in Stockton on April 1, 2011.
ASPARAGUS APRIL: April really is the Best Month for ____, right? Name just about any fruit or vegetable, and chances are it is popping up 'round California parts, or making a very good go at it, anyway. But the asparagus is one of the leaders of the April field -- we're not even going to write "get it, field?" there, because we want to get back to talking about asparagus -- and, with that in mind, a certain city is gearing up to celebrate its favorite edible symbol. We wanted to say "spearing up" but, really, enough is enough. More asparagus, less horsing around.
SPEARS OF STOCKTON: There's a festival ahead, later in April, but from Friday, April 1 through Sunday, April 10, vege cravers can enjoy The Great Stockton Asparagus Dine Out. Several eateries around the city will be focusing on asparagussied-up dishes, like Colossal Crab Asparagus Bisque and Panko-Fried Asparagus. You know this will all be delicious, right? It can't not be, given that Stockton happens to be the proud owner of the nickname The Asparagus Capital of the World. If that was your nickname, wouldn't you just brag about it all over?