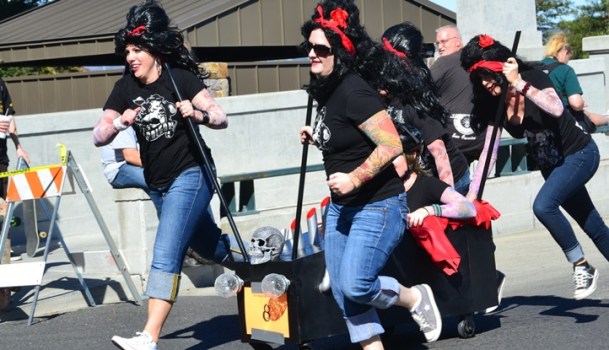 Napa Valley Coffin Races
The Napa Valley Coffin Races whoosh through downtown Napa on Saturday, Oct. 26.
"COFFIN" CREATIONS: Halloween events geared for adults can come in a lot of flavors. There are the traditional dress-up balls, of course, and Oktoberfesty beer tastings, and haunted wine tours, and graveyard-based history talks. But one of the quirkier entries on the October calendar is, quite definitely, the coffin race. First off, real coffins and caskets are not raced, mostly (there may be someone who slips one in now and then, so, yeah, let's qualify that). The "coffins" are made from wood and rollerskate wheels and found objects and handles lifted off old dressers and cabinets. Then they are raced, by teams, down a hill or through the center of town or maybe both places. Yep, the teams typically dress up, outlandishly, so we suppose there is a bit of the costume-party element there. But it is all about make coffins fly and fast. The gold standard is the long-running Emma Crawford Coffin Race in Manitou Springs, Colorado, but they pop up, quite colorfully, everywhere. And one recently popped up in downtown Napa.
YEAR TWO: The town is ready for its second casket-quirky outing on Saturday, Oct. 26. The Napa City Firefighters Association is the sponsor and the coffins in question? It's very anything goes, but count on teams being outrageously outfitted (but not outrageously that they can't run alongside pushing a plywood coffin-shaped box). Time is noon to 5 p.m. and food vendors'll be out and around. Oh, and did we mention one of the most important rules of a coffin race? Yep, there's got to be a rider, meaning that the pushers aren't merely pushing an empty box. Cheers to the people who let their friends propel them, fast, in a homemade casket. It's kind of a special calling, at least at Halloween time.