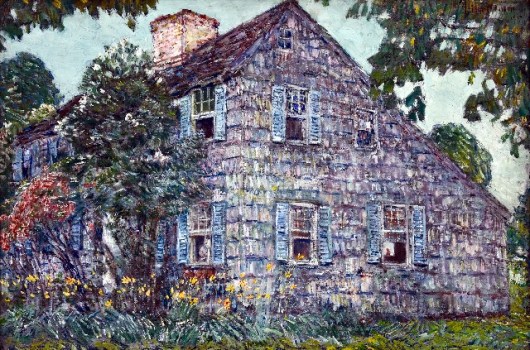 Bank of America Collection
Child Hassam, Old House, East Hampton, 1917.
GREAT ART: What are your thoughts on American Impressionism? It certainly isn't a trick question, but even regular museum goers may do a bit of hemming and hawing upon being asked. And the mind may turn to the legendary paintings of the form, many of them created in Europe. But while 19th-century superstars on the continent were fashioning an art-impacting, wide-reaching movement,American artists were also blurring horizons and softening edges and daubing flowers in need of daubing. In short, American Impressionism was a robust enterprise, producing painting superstars like Lilla Cabot Perry and George Bellows. And the Crocker Art Museum in Sacramento is spending the summer highlighting many of those homegrown works, during its Summer of Impressionism.
EXHIBIT DETAILS: Transcending Vision: American Impressionism, 1870-1940 will be on view at the Crocker through Sept. 25, 2011. The paintings hail from the Bank of America collection, and when we say there's a whole caboodle of 'em, we aren't exaggerating; there are 125 in all. The one depicted above is Old House, East Hampton by Childe Hassam. It is a bit like a soft summer morning in painting form. But take note that there are two other shows incorporated into the museum's Summer of Impressionism, exhibits that will be "tracing the development of Impressionism from its French roots to its expression in California and throughout the United States." So there will be a few welcome cameos by the continent's celebrated Impressionists as well.