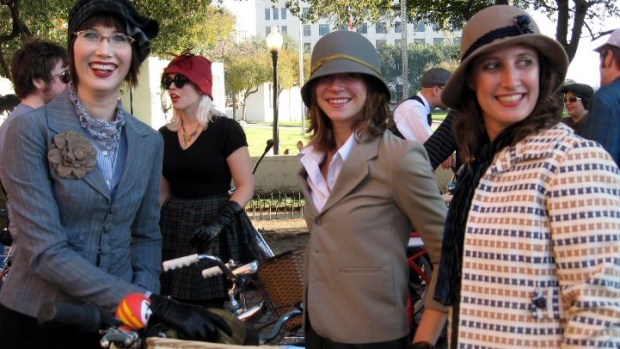 Greg Berg
Everyone loves a Tweed Ride! This group tweeded it up in Dallas. Sonoma's own Tweed Ride rolls on Saturday, Oct. 15.
LOVE FOR LUTHER: Like many aspiring Edwardians out there, you don't necessarily need a reason to wear tweed. You'll happily don a tweed cap while picking out nectarines. You'll wear a tweed bolero while dropping the kids off at schools. And the full tweed ballgown? That can be worn practically everywhere. But when several people come together -- tweed-sporting people, we'll add -- to honor a bike-loving botanist, then that, our nubbily-fabric'd friend, is one of the best reason to go old-school in the sartorial sense. Such a group will be doing just that, on Saturday, Oct. 15, when the Sonoma County Bicycle Coalition toodles to Sebastopol in honor of plant-loving Luther Burbank.
WHAT YOU SHOULD DO: Wear tweed. Have a bike. Like plants. We're not saying you should be able to rattle off the Latin scientific classifications of every flower you pass, but if you keep a little respect for what the botanist did in your heart, that's nice. You'll learn about Mr. Burbank and his love of bike commuting. And you'll learn about life in Mr. Burbank's time. Will you learn about tweed? We don't know. Maybe you should arrive with a few tweed-based facts to share with the group. Get more on the Oct. 15 ride now. Ding ding! That was a bike bell.