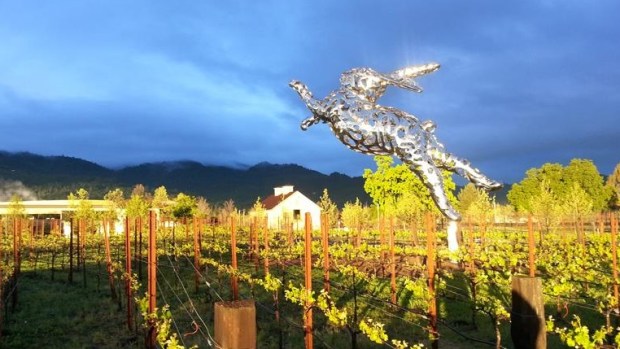 Hall Wines
A rabbit in seeming flight over a vineyard? You must be at Hall Wines in St. Helena.
WINERY STYLE: If you had to describe the decor and look and feel and design of a winery, what words would you use? You might go to adobe or river rock or loggia or flagstone or post-and-beam, to summon some common structural characteristics. You might say hibiscus or grass or wisteria to paint the plant picture. But what of a vineyard's art collection? It's not a trick question, though your mind likely went to the file where you keep your memories, to dig up whether you've actually seen a lot of artworks at a winery, outside of the jazz festival posters and wine-glassy paintings in the tasting room gift shop. It feels like every winery should have some permanent favorites to admire, outside of special holiday displays or anniversary party auctions, but a few absolutely do. At the forefront of the art-meets-wine scene is Hall Wines. So serious is the St. Helena grape place about its visual arts feast -- and its libations, too, of course -- that it has a tour called Wine and Art Exploration. It's not every day, and you'll want to book that $40 ticket ahead of time, and clear an hour. And then...?
GREAT CONTEMPORARY ART... and lots of it, awaits. You'll head out around the winery to admire works by John Baldessari, Nick Cave, and Jim Campbell, works that "will nurture your soul and ignite you." We want that. And we want to eye Bunny Foo Foo, artist Lawrence Argent's 37-foot-long rabbit statue that can be seen from Highway 29. Does art feed the mind and wine feed the palate? Of course. It's a silly question to ask, though many would argue that a great glass of Cabernet speaks to that place in our head where we appreciate art. We'll go with that, and we'll go to St. Helena, for an hour of winery-walking and artwork-appreciating. Oh, and a swing by one of the just unveiled tasting room and visitor's center, too.