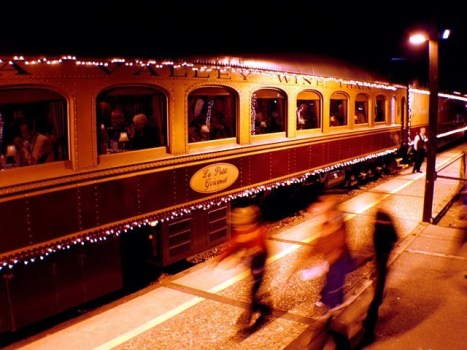 Napa Valley Wine Train
The Napa Valley Wine Train introduces a new app.
TWO THINGS: If you've got a fun new app, and you're on the Napa Valley Wine Train, and the app happens to be tailored to the wine train and sights seen along the train's tracks, be sure to look up from your iPhone on occasion. Do not spend the entire ride staring down. You know this, but the temptation? It's great. That's one. And the second thing? If you do get the new Napa Valley Wine Train app, which just debuted this week, refrain from rhyming "Napa" with "app-a." We know it'll be hard, especially given the fact that a glass of wine can embolden people who are normally not given over to making rhymes.
THE APP: It's free, as mentioned, and it explains a lot of what riders are seeing outside the train's windows. So. That winery in the distance? The app knows. The 411 on the town you're passing through? Bet the app'll help out on that. Again, unhand your phone on occasion, the better to hand that glass of chard and enjoy the views.