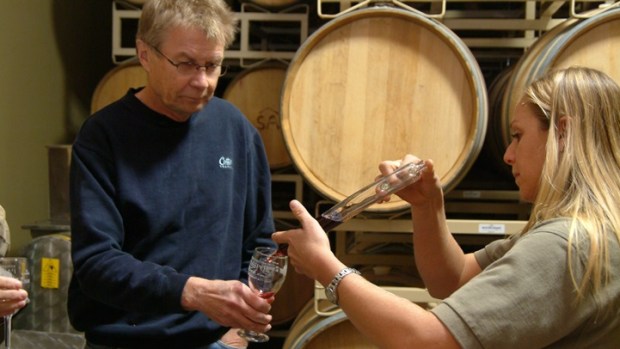 Sierra del Oro Passport Weekend
Want to know the winemakers of the Sierra Oro Farm Trail? Circle the second weekend in October.
UNOFFICIAL WINE ENJOYMENT WEEKEND: If it is a day of the week starting with an S, chances are that the winery tasting rooms of the Golden State are a-hummin'. People are out in happy throngs come the weekend, checking out the smoky Cabernet that their pal told them about over dinner in the city last Tuesday. In short? Every weekend is wine enjoyment weekend, but if we were to give a big blue ribbon to a particular weekend of the year, one that shines above all the others in the regard, it might be the second weekend in October. First off, the handing out of ribbons tends to be a wine-awarding thing, right? So you see why we went that imagery. And second? That weekend in October comes after the main harvest hubbub has settled but excitement still fizzes in the vineyard air. It's autumn, the weather is crisp -- crisp or brisk, take your choice, but both are highly autumnal weather words -- and people are in the mood to buy wine for the holidays. Oh, second weekend in October, we do love you, and so do the people of Butte County. The Sierra Oro Farm Trail Passport Weekend falls just about then, with almost 30 wineries opening their doors for special tasting.
PLUS... farms along the trail welcome visitors as well. It's a twist on a traditional winery passport affair, in that many a food grower and purveyor also jumps into the mix. Specialty nuts? Yep, you'll try 'em. "Tasty artisan olive oils"? Those, too. And lots of the best wine of the region north of Sacramento, an area well-known for its agra-offerings. If this is your year to get familiar with a new vino-making area, and you are also enamored of that second weekend in October, keep an eye for tickets when they go up for sale in September. A sell-out is expected, and with good reason: wine, food, Butte County, specialty nuts, and fall good times following all of that harvest busyness.