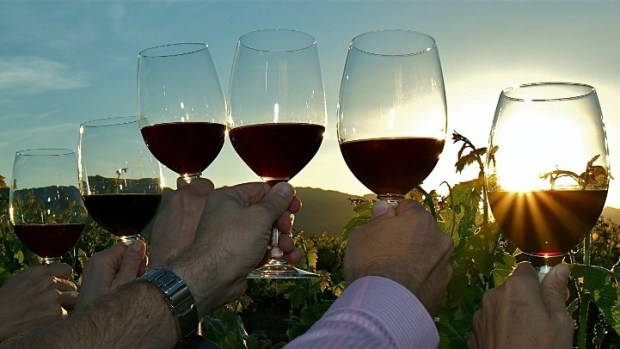 Napa Valley Wine Wave
The Napa Valley Wine Wave will go for a world record, and raise funds for scholarships, on Sunday, Oct. 7 at the Charles Krug Winery.
THAT TOAST: Probably everybody has been at a party or convention or a wedding where a toast is made that simply will not end. It won't; the person with his or her glass raised has a lot of moving words to say, about the subject at hand, but maybe less of a sense that the speech needs to be wrapped up so people might enjoy the libations they hold. Was the one you experienced truly long? Put that one aside, because the Napa Valley Wine Wave is ready to outdo every mondo, over-big toast that has ever been called for. On Sunday, Oct. 7, hundreds of people will gather at the Charles Krug Winery to raise their glasses in fun and fundraising. Their aim? To set the record for "the longest, sequential, rolling wine toast." Some 500 toasters are expected, says the promo video, so that toast? Yeah, it's going to last far longer than your brother-in-law's speech at your sister's wedding reception. Far, far longer.
BUT WITH GOOD PURPOSE: Scholarship money will be raised, specifically for students studying winemaking and agriculture and such, so that's sweet. And? The toasters are going after the Guinness Book of World Records title. We can also assume, since wine, a fine fall Sunday, and Napa Valley are involved, people might be out to also have a good time. It's a hundred bucks to participate and thirty five to spectate. If you do end up getting in the relay line, glass in hand, what will your toast be? Best start thinking now, but, remember: There will be about 500 or so other people waiting to make theirs, so brevity is best. Always.