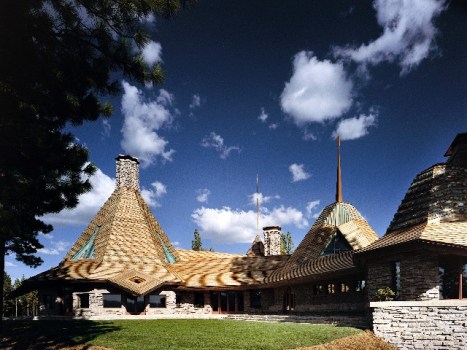 Nakoma Golf Resort
Visit the Frank Lloyd Wright-designed clubhouse at the Nakoma Golf Resort.
WHEN YOU THINK GOLF... You likely think of warmer, balmier days. We're sure icy hole-in-one-ing has its backers, but most of us want to be out on the fairway getting freckled, not frosty. But that doesn't mean that late winter is a bad time for visiting a mountain-y golf resort that isn't all that far from the snowy Sierra Buttes neck of things. Especially if you're an architecture buff.
WRIGHT'S CLUBHOUSE: Fans of Frank Lloyd Wright's work can generally list all of the master's existing buildings, where they are, and in what year they were built. And visits to each? Muy important. The architect was the visionary behind Nakoma Golf Resort's beautiful clubhouse, a place that is open to the public for a few meals on Fridays through Sundays. So not only do you get to admire the building, you get to go inside and enjoy. Figure, also, when golf season starts up, that place'll be hopping. Now is the time, so skip the golf shorts, don the parka, and head up.