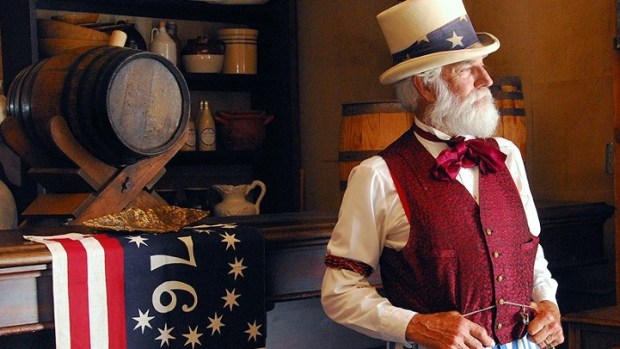 Old Sacramento
Time Travel Weekends open at Old Sacramento on Saturday, July 7.
BRB, 2012: Whenever we see promises of "time travel" we get a bit excited. No, we don't want to live in another time; historical dramas have a way of romanticizing long-ago periods, but we'll take our tablets and our social media tagging and our ability to phone our mother in another state, thank you very much. But do we want to cavort in another era, just for an afternoon? Do we want to see people in costumes, holding onto their vest sides while speechifying? Or perhaps riding a high wheel bicycle past gas lamps? Yes, we want that. Especially when the setting is beautiful Old Sacramento, and especially when the time travel days are an annual event that have become something of a summertime tradition. The historic area's Time Travel Weekends are set to climb aboard the high wheel bicycle again, pedaling every weekend from Saturday, July 7 through Sunday, Aug. 26.

WHAT YOU'LL SEE: It truly depends on the weekend you show up in Old Sactown. Weekend #1 -- that's Saturday, July 7 and Sunday, July 8 -- features a patriotic theme. The next weekend? Heroes, Villains, and Damsels in Distress (we are counting on a lot of old-style mustache twirling going down). And Aug. 11 and 12 puts the focus on Victorian pastimes. Will some steampunkers show? We're counting on it. Since this is a free street theater program, stash the wallet. Well, not too far; there are restaurants and other historic diversions in the area. Oh, and before we scoot -- each of the Time Travel days brings the New Eagle Melodeon Revue at 2 p.m., so hang around for that, too, if you like stage shows with a bit of sass. Ready, time travelers? Got your breeches on? Good. Now, where can we get our own high wheel bicycle?