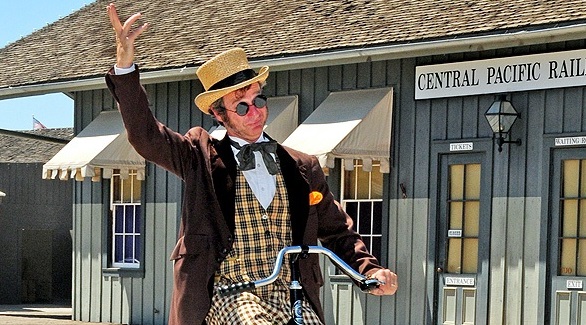 Old Sacramento
Time Travel Weekends open in Old Sacramento on Saturday, July 5.
OLD WEST NEW AGAIN: When we look back at our childhoods from a few decades along, we tend to recall a few things. The first time we scored an extra scoop of ice cream is probably up there in many a memory bank -- heck, we're excited about that now -- and the first time we pet a horse or a llama or a pig. Seeing the beach is huge, as is seeing a huge tree like a redwood, and watching an Old West show, complete with cowpokes and ten-gallon toughies? Many of us can recall the weather, what we wore, and the stick of penny candy we ate (usually horehound or peppermint). Beholding such a historical yet hysterical event is part of many a Californian's childhood past, whether they visited a ghost town on a field trip or the family summertime vacation. Old Sacramento remains one of the biggest purveyors of the costumed-characters-joshing-and-orating scene, especially come July when the ye olde district's Time Travel Weekends kick off. And they shall again, the Saturday after the Fourth of July, meaning that July 5 is one of your first days to see...
SKITS AND PERFORMANCES... in the streets of Old Sacramento. The entertainments will be staged by people in full bustle and beard, and while some get mirthful, some are straight-up tell-the-story-of-the-past. Look for military encampments, historic shows, and mining camps (fitting, since Old Sactown was a Gold Rush hub). Medicine shows and musical merriment fill out the Saturdays and Sundays. Oh, and those Saturdays and Sundays? They run through Aug. 24. Oh, and the price to board a time machine and see past-Sac in all of its leather-booted, parasol-wielding glory? Free, free, free. Even if you don't have a tot who hasn't had the experience of history come to life, we're just betting you yourself want to revisit the experience. We're just betting, you betcha.