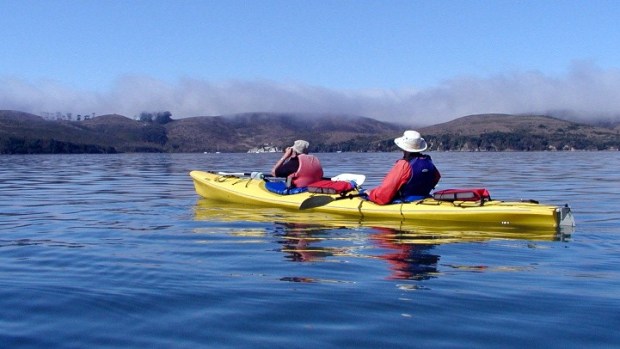 Nick's Cove
You've driven by Tomales Bay, but have you gone kayaking on it yet?
THE FIRST TIME: There are a few big first visits around the state that people tend to recall. They remember their first redwood, the first time they saw the Hollywood Sign (or a real life celebrity in Hollywood), they remember seeing a dolphin or whale out in the water. There are other places that don't necessarily get the headlines in the "first time" department, though, and chief among them might be Tomales Bay. When we describe it to people we can't help but sticking the word "supernaturally" in front of the word "beautiful," and after our friends ask if we exaggerate, they go and they see we have not. It really is one of the most memorable watery places in all the state, and it is made more all the more scenic by its wildlife. Which means that if you've only ever seen the Bay through the windshield of your car, going 55, that's a shame. Kayaking out on the water, and eyeing little pockets and byways you've never seen, reveals more Tomales treasures.
NICK'S COVE PACKAGE: Nick's Cove, that clutch of posh cottages right against the water, recently introduced a package that puts overnighters out on the waves. It's called the Tomales Bay Kayak Adventure Package, and while there are a few parts to it, let us mention the main bit: You get two nights in one of the cottages and you get a three-hour bay tour with a naturalist. Oh, the tour is for two people, so you and your special someone can both go (that would not be popular, leaving your guy or gal back in the room, we suspect). We like the naturalist being there, because while some birds might be easily identifiable, bet several will be new to you. There are other fun marine additions, like BBQ oysters when you arrive at the inn, so check into all that goodness, too. Oh, and it is on through October. We're tempted by the idea of a fall kayak excursion, when that Tomales Bay light is starting to get low and dusky. Oh Tomales, we do think you are pretty supernatural.