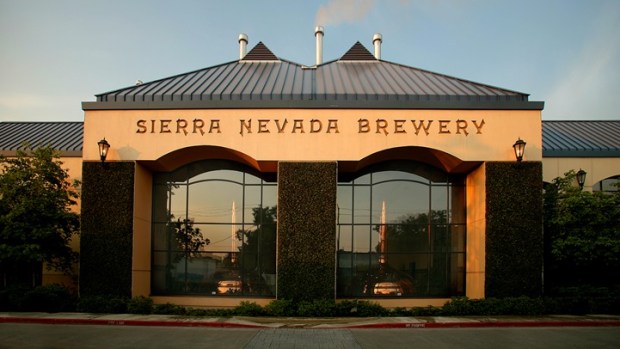 Sierra Nevada Brewery
Sierra Nevada Brewery was named Brewery of the Year by the California Travel Association. You can tour the Chico landmark.
PRIZE-WINNING SUDS SPOT: There are probably people out there in the world who love their beer so much that they'd like to make a grand tour of every brewery on the planet. Given the rise of micro and craft brews over the last few decades, this could be something of a full-time career, if it could happen at all. (But, if it does, we're quite sure a documentary crew will follow all the action, because, yeah, that's filmable.) But visiting every California brewery that's opens to visitors and offers tours? MUCH more do-able, and kind of a pleasure, too. We wouldn't be surprised if a couple of pals meet up each summer to check off three or four from their lists over a long weekend. But, where to start? So many libations of quality and note are made in our state, but only a few of them have world-known names and all kinds of prizes to boot. Sierra Nevada Brewing Co. is at the top of every beer-flavored list, and it just took the number one slot on another: the California Travel Association's first-ever Brewery of the Year. It's a nice title, considering the group bestowing it (does our state's big travel org want to send people to so-so spots? They absolutely do not.)
HOW TO VISIT: The honor will be bestowed upon the brewery this March in San Diego, a city that is, of course, a good distance from its Chico home. But given that San Diego has seen its own renaissance of beer-brewing, it feels like a solid fit. But if you want to make your way to Sierra Nevada's HQ for a look-around, say on a summertime, let's-visit-ALL-the-California-breweries road trip, you certainly can: The brewery receives about 30,000 visitors a year. There's a taproom, a restaurant, and bread that's made with brewer's yeast, and a gift shop, and all of the traditional touches of touring a well-designed brewery. There shall be copious ogling of the brewery's much-photographed copper kettles, too; it's where all the good stuff swirls together (or ferments, if you prefer more technical language) before becoming beer. Tours are free and happen every day of the week throughout the day.