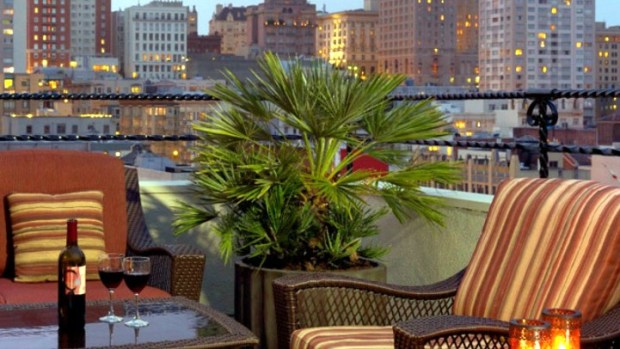 Hotel Adagio
Hotel Adagio in San Francisco and wine country's own Milliken Creek Inn and Spa have paired up on a Town & Wine Country package.
TOWN & COUNTRY: It's a time-honored label, town & country, but it has long been one that a single hotel or inn couldn't readily access. After all, your property is either in the city or it isn't, or, if it isn't strictly one or the other, it leans in one direction. We'll count any hotel in the suburbs as more city, unless it happens to sit on a large swath of land. So running a package that highlights the best of both concepts has been pretty much off the table (unless, of course, you have a hotel that can go on the road, which someone somewhere is surely developing). The ultimate solution? Team up with a property that's the opposite of yours, at least in setting and feel, and give guests both things. Enter the Town & Wine Country package from Hotel Adagio and Milliken Creek Inn & Spa. The "creek" is a hint as to the country end of things -- that's the Napa-based Milliken Creek -- and Adagio is located on bustling Geary Street in downtown San Francisco.
HOW THEY'RE PAIRING UP: Guests who choose this package, which just started earlier in August and runs through Dec. 27, will stay a night at Hotel Adagio, with a few citified additions, like a cocktail at Mortimer's. As for the country side of the deal? You'll check out of the Adagio and head up to Napa for two nights, where the Milliken Inn will offer a single 90-minute spa treatment and a cheese and charcuterie tasting, among other goodies. Cost starts at $1,079. Now we must think of our suitcase. When you hear the words "town & wine country" don't you want to dress in tweeds in such? Do we even own tweed? Off to dig through the closet now.