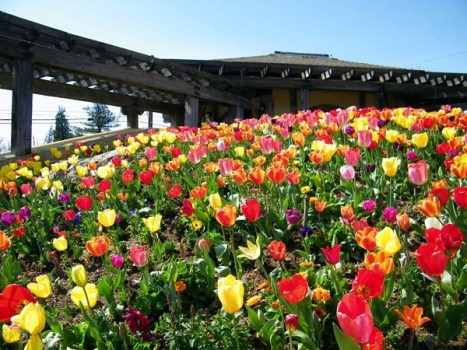 Tulip Hill Winery
Tulips 'n sips reign on Saturday, March 26 at the Tulip Hill Winery in Nice.
WHAT'S IN A NAME: Winery names tend to push the charm factor. Either a wine-making outfit bears the family surname, or there's a cute animal involved, or perhaps something completely whimsical that is in no way related to grapes or presses or tannins. Then there's Tulip Hill Winery, which, wait for it, really does have a relationship with the flower in its name. And not just any relationship; Tulip Hill truly becomes a tulip hill come springtime, when thousands of bright tulips preen and pose (okay, we realize tulips can't do either of those things, but somehow, if they were sentient, we do believe they might.) And when we say thousands? We're not joking. The winery says some 30,000 tulips will be on display in 2011.
TULIP FESTIVAL: The Nice-located winery will host its annual Tulip Festival on Saturday, March 26. The admiring of the not-bashful buds is part of the day, as is wine-sippage. There will also be live tunes, which always add flavor to tulip-looking and wine-enjoying. Now, two things to note. One, Tulip Hill has a few locations, but this is all going down at the Nice property. And the second thing is you'll want your ticket in advance, since admissions are limited. It's $40 ahead of time. Get info, and happy tuliping.