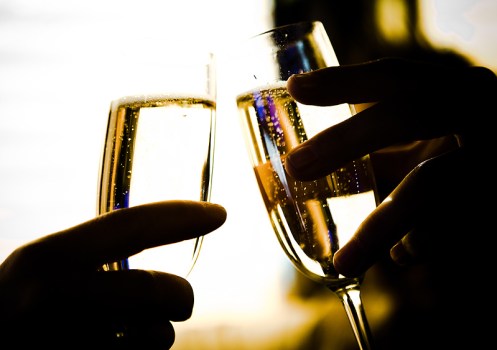 clipart.com
J Vineyards & Winery is hosting a Valentine's to-do in its Bubble Room.
SPARKLING SWEETNESS: Bubbly and Feb. 14? Go way back. We can't put an exact year on it, but we're betting people were in top hats and monocles. Or they are, at least in our particular fantasy. And a place called "The Bubble Room" fits perfectly into our frou-frou frame of mind. Of course, such a place exists in modern times, at J Vineyards & Winery in Healdsburg. And you don't even need to dust the webs off your top hat to go. You do have to make reservations, if you want to be in the Bubble Room over Valentine's Weekend, when the Winery hosts a chocolate-and-wine party.
THREE-DAY PARTY, THAT IS: Over the Feb. 11-13, 2011 weekend, J Vineyards will host a number of seatings in its swank salon. Reps from the winery and TCHO Chocolate Company will be pouring/chocolating guests, while Chef Mark E. Caldwell will keep the cocoa-crusted lamb loin-esque plates coming (the menu is very cocoa'd-out, in fact). Cost is $65/person and should we type "make reservations" five times in a row to stress the point? Perhaps just that sentence is enough.