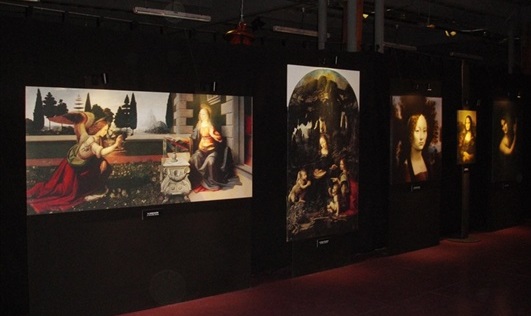 Da Vinci The Exhibition
Da Vinci The Exhibition, a show packed with the master's recreated inventions, is now open at The Venetian in Las Vegas.
THE MAN WHO COULD SEE TOMORROW: Leonardo Da Vinci famously drew many a whimsical invention that went on to predict, or become, the various realities of today. Flying machines? Yep. Armored cars? The inventor, artist, and visionary, who lived from 1452 to 1519, drew those as well. With all of these wonders to be found inside Da Vinci's notebooks, one wonders, or even daydreams, whether the man could have predicted a city of a billion lights, neon and LED and blinking bulbs. Could he have seen machines that spit out coins, machines of chance, and huge, street-close signs full of moving pictures? We're fairly sure that Las Vegas, as a concept, didn't show up in the master's illustrations, but we have to admit that the futuristic, tech-heavy land is a fine fit for a show devoted to one of history most beloved brains. And the brainy master gets his Sin City due, at, where else, The Venetian, a building he might have first gravitated to upon landing, through some time portal, on The Strip. (Did Da Vinci dream up time portals, too?)
DA VINCI SHOW: "Da Vinci The Exhibition" opened at the Italianate property on Wednesday, March 12. The Imagine Exhibitions Gallery experience "follows the Renaissance master, Leonardo da Vinci, on a journey of innovation, creativity, science, and wonder amid beautiful scenes of the Italian countryside." Over 65 "fully built, life-size inventions" and "more than 20 fine art studies" are on display, along with bunches of other da Vinci-ian delights. Beauty! Hydraulics! The man really did it all. An adult ticket is $27.50, and the show keeps later evening hours on Fridays and Saturday, through 9 p.m. Meaning you can take it in before you go catch some stage extravaganza, an extravaganza that will surely brim with inventions Da Vinci himself might have pondered over a half millennium ago.