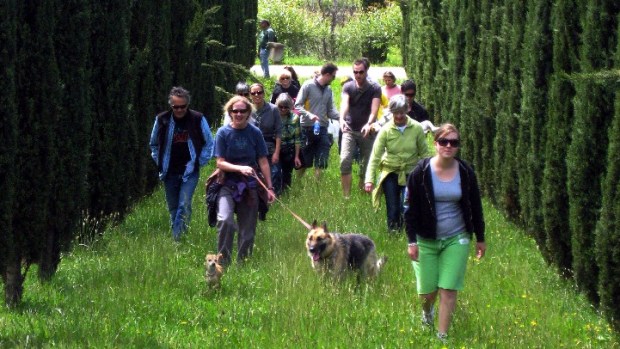 Saracina Vineyards
Join the Earth Day Dog Hike through the Saracina Vineyards.
GROWLIES AND GRAPES: It isn't often that one is permitted to show at a winery with one's favorite Fido. Actually, "often" might not even be the right word; we're not sure we've ever experienced a situation where a winery "plus one" means our pup. But our pups are not just permitted but invited to Saracina Vineyards in Hopland for the winery's Earth Day Dog Hike on Saturday, April 23.
FOUR MILES: This isn't a mere toodle by the vines, it should be noted. Walkers and woofers will amble over "gently rolling terrain" for about four miles. That'll be enough to build up a peckishness for a boxed lunch back at Saracina, a tasting, and a grape-y confab with John Fetzer, the winery's owner. An adult ticket is $25, and kids are welcome, too (admission for the 16-and-under set is $20). There's no charge for your furry friends, but just make sure they're leashed and ready to ramble. Time is 10 a.m. to 1 p.m. (oh, and if you arrive in a couple or pair, note there is a slight ticket discount; the price is $45. The Human Society of Inland Mendocino County benefits. Woof woof (translation=hooray!).