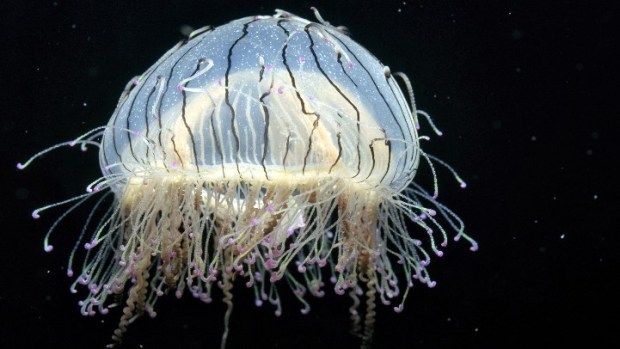 Randy Wilder/Monterey Bay Aquarium
Want to start 2014 in a novel way? Spend the night not too far from the jellies inside the Monterey Bay Aquarium.
H20 HELLO: Have you typically woken up on January 1 in the same place that you spend the remaining 364 days of the year, give or take? Oh, you might stay over on a friend's couch, if she hosted a late-night bash, but the chances are good that you're probably in your own bed. We're not saying that isn't celebratory, but we are saying that how we start the year is often said to be how we want to approach the year, thematically. Isn't this why people wish upon certain foods on New Year's Day, for prosperity, joy, and such? With that in mind, it might do you well, just once, or maybe from now on, to start January 1 in an adventurous and lively and travel-terrific spot. One such unusual place, that doesn't allow overnight night guests all that frequently? It's the Monterey Bay Aquarium. The landmark, Cannery Row-snug, fish-brimming institution is welcoming families for a pajama party stayover on Dec. 31. And? An East Coast countdown, meaning West Coasters who want to start to turn in, yawnily, after 9 p.m., have that choice. (Honestly, why doesn't every West Coast party have an early countdown? Just sayin'.)
WHAT TO KNOW: The stayover is open to guests "5 to adult" and costs $125 per person. Is there a continental breakfast on January 1? We asked that in a way that would suggest there is. Will you visit the Great Tide Pool Deck on that day for more oceanic learning? Yes. And, the night before, are there NYE-style, fam-appropriate to-dos? Indeed. It's all a barrel-full-of-jelly-fish fun, yep yep, but we are also entranced by the notion of staying somewhere where the inhabitants don't keep calendars or daytimers or schedules, at least the schedules we humans know. Refreshing, right? And a new perspective on the days ahead. If the sharks don't fret about the future, at least in the sometimes fussy ways we people do, why should we?