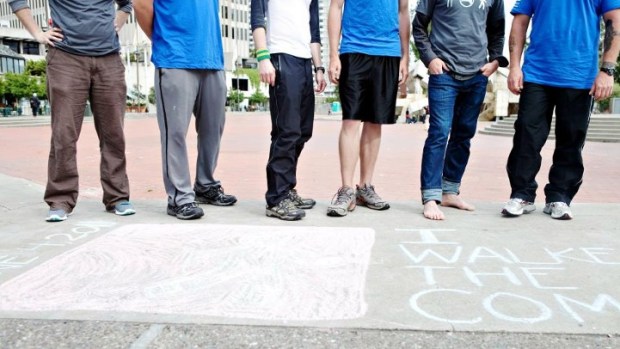 Walk the Commute
Saunter -- over 24 full hours -- from San Jose to San Francisco on Saturday, June 9 and Sunday, June 10.
THAT ONE BUILDING: You haven't lived in California for very long if you've never had this particularly California moment: You're someplace you drive by several times a week but you happen to be, for whatever reason, on foot. Suddenly you see a building, or a storefront, or an artwork, you've never spied before, even though that particular block has been on our daily route for years. And you think, "yep, I'm in the car way too much." Getting out and padding about our streets, especially the streets upon which we regularly drive to work, day in and day out, is important. Well, that is, if you want to know the communities that touch the community you live in and the community where you work. With that in mind, several gusto-filled strollers will be making a 24-hour-long strut from San Jose to San Francisco on Saturday, June 9 and Sunday, June 10. It's called Walk the Commute (oh, cheers and sparkles for the perfectly clear name.)
THE DETAILS: It's a long'un, as you likely know, if you've driven between the two cities. It'll stick to Route 82. There will be hydration and food stations. And there's a discount if you sign up by April 2 (there's a code you'll need, so eyeball the site.) So. Do you have a guess on the mileage? It's about 50. We like what the Walk the Commute people have to say -- they have some great ideas behind the event -- on committing to this: "Starting in the morning, participants spend one full day walking through and experiencing the communities that we often drive by in the rush of our daily commutes." Even if you can't participate, or a full day of walking sounds just a bit too daunting, surely you can incorporate a bit of that spirit in your own life. Pull the car over once and awhile, park, get out, get a cup of coffee, and look around. That's all. Not too hard.