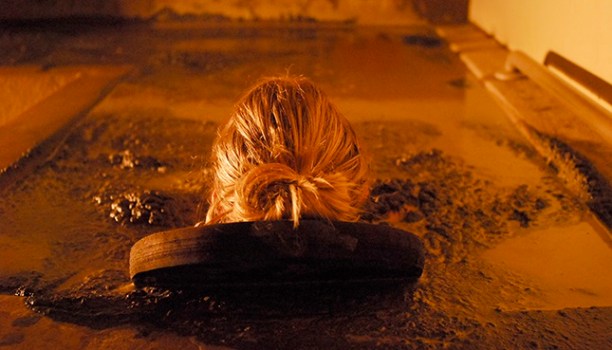 Golden Haven Hot Springs
Need a Wednesday warm-up time in a Calistoga mud bath? Golden Haven is offering midweek winter rate deals.
MIDWEEK WIND-DOWN: It's a funny tradition among hotels and attractions and restaurants, the midweek discount or deal. Oh, we absolutely understand that many people are on the job and unable to slip away to enjoy the discount in question. Weekends are easier, there's more time, a person can bid their normal cares adieu for a day or two. But a Tuesday? That's trickier. Of course, the funny part is that Tuesday is the very day of the week that most people desire that stress-defusing getaway the very most. Maybe Wednesday, too, and we're positive there's a large Monday contingent out there. So when we hear of a midweek deal at a place famous for helping people unwind and leave the desultory matters of the day-to-day behind, that feels right to us, and appropriate, even if a Wednesday slip-away takes a few more tactics. Golden Haven Hot Springs in Calistoga is offering just that, this winter, and by "just that" we mean a Sunday through Thursday overnight, along with spa treatments, at the most excellent starting price of $98.
DATES AND DETAILS: The end of this lovely drive-up-and-mud-up shindig is March 15, so dallying is not an option. But what are options? Whether you want to play bocce during your stay or use the Golden Haven bikes (that's part of your package). You'll also get an overnight in one of three types of rooms, and a visit to the mud bath, mineral Jacuzzi, and a blanket wrap. Are blanket wraps, following a warm 'n muddy experience in the middle of winter, maybe better than hot toddies, roaring fireplaces, or any other heat treat? We'll suggest that they just might be. There are tweaks you can make, such as going for an herbal mineral bath instead of a mud, so read everything. And then start dreaming about slipping away on a Wednesday, for a gooey getaway of the toasty kind up Calistoga way.