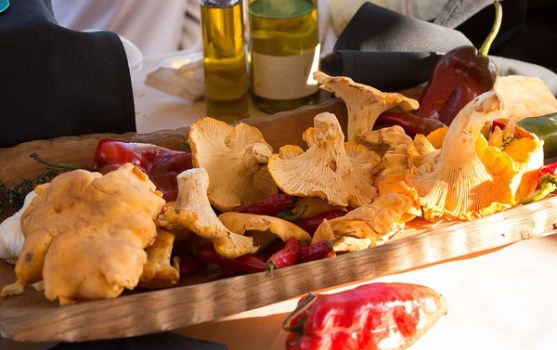 Big Sur Foragers Festival
"(C)hanterelles and other fabulous fungi" are the main ingredients at the Fungus Face-Off, set for the deck of Ventana Inn & Spa on Saturday, Jan. 18. It's a part of the 2014 Big Sur Foragers Festival.
CAN'T EVERYBODY GET ALONG? An amusing quirk of the culinary world is that while the people and players get along, chefs and sommeliers and diners and fans, for the most part, we love nothing more than to pit ingredient against ingredient and dish against dish in an epic battle of table-sized proportions. Why do we want arugula to duke it out with butter lettuce? And can't almonds and filberts find common ground? The funny twist, of course, is that all the dishes, winners and losers, tend to be consumed with joy and enthusiasm following any supping-focused showdown, but it is the thrill of the cooking competition that continuously draws us in. Exactly that scenario is set for the Ventana Inn & Spa on Saturday, Jan. 18 when "the area's notable chefs" -- that area is Big Sur, of course -- try to trump each other in the field of mushroom-cookery. You can vote, indeed, and you can stick around for an olive oil & vinegar tasting, too, and other gourmand goodies. A ticket is $45.
BUT... that isn't the only headliner happening at the Big Sur Foragers Festival, which runs from Friday, Jan. 17 through Sunday, Jan. 19, and is devoted to the pleasures of a certain flavorful edible that springs from the ground (or remains hidden). There are indeed mushroom walks in Pfeiffer State Park, led by knowledgeable sorts who know where to find the finest (and safest) fungi. And a dinner and a brunch, too. Will there be mushroom goodness at every meal? Pretty much count on it. The only challenging thing about the Big Sur Foragers Festival is this: The Napa Truffle Festival goes down the very same weekend, with some of the same earthy themes. So what's a mushroom maven to do? Napa and Big Sur aren't exactly cheek-by-jowl. Best plan one for one year, and the other for the next, and figure that all of your mid-Januarys to come shall be devoted to the most fun fungi fests around.