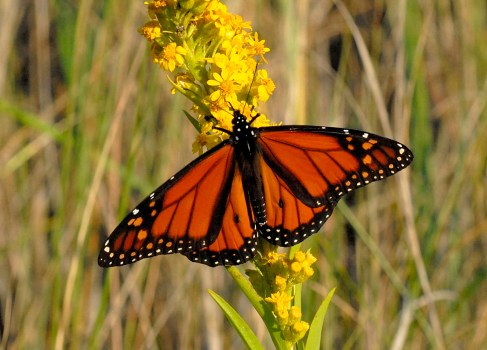 Monarch
Welcome Back the Monarchs Day is on Sunday, Oct. 9 at Natural Bridges State Park.
EARLY OCTOBER? In nature, at least in this area, the fall is seen as a time of endings. Leaves are bidding their final farewells and various animals are thinking about making up their dens for the winter and a full-on flower bloom is more rare than not. But creatures are migrating and wintering, too, including some of the most famous seasonal denizens of the Monterey-Santa Cruz area. Yep, we're thinking monarch butterflies and we know you most certainly are, too. The monarches make their way back to their traditional wintertime home in mid-October, and there are plenty of people and parties to welcome them. One of the nicest? The Welcome Back Monarchs Day, which is scheduled for Natural Bridges State park on Sunday, Oct. 9.
BUTTERFLY BASH: The six-hour, Santa Cruz-close day has a lot of doings -- live music and kid-nice to-dos are at the top of the list -- but definitely take in a tour of the monarch grove. The butterflies' numbers won't hit the top of the charts before Thanksgivingish, says the site, but bet you'll spy a few brightly hued insects living in "the city in the trees." (We're pre-picturing hundreds of tiny butterflies bobbing on twigs and leaves, and the vision makes us pre-pleased.) If you can't make the big Oct. 9 party, mark your calendar for a weekend tour of the grove. They're on through mid-January or so. Pre-picturing and pre-excited.