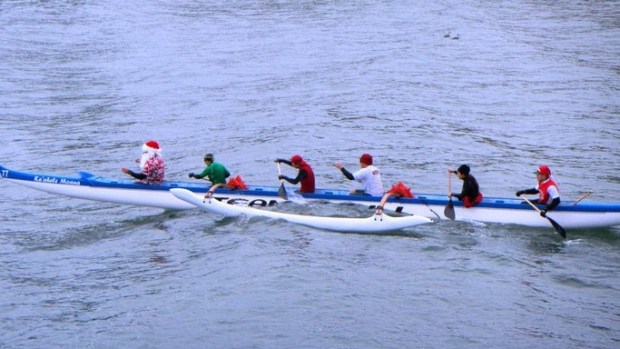 Capitola-Soquel Chamber of Commerce
Yep, that's Kris Kringle all righty: The man in red'll paddle into Capitola on Saturday, Nov. 30.
GRAND ENTRANCE: Chimneys and Santa Claus practically outdo peanut butter and jelly in the iconic pairings department, and salt and pepper, too. (We won't go as far to say "Laurel and Hardy," because that's a twosome not to be challenged.) The man in red always arrives via a certain brick-laden flue, with his sack on his back, and there are few books or television specials that challenge this notion. Still, a few facts remain: Not everyone has a chimney and Santa doesn't always arrive in the same manner. He likes to keep it fresh, right? Yep. Which means that come Thanksgiving, or so, you're apt to see him pulling up to various malls in rented red convertibles and hot air ballooning in and, yes, occasionally arriving by ocean. That last grand entrance does in fact happen each and every year in Capitola, around Thanksgiving weekend, and Santa aficionados head down to the beach to see a casually clad Kris Kringle -- this is California, after all -- step onto the sand.
CAPITOLA BEACH: Be near the water at noon on Saturday, Nov. 30 to catch a Hawaiian shirt-sporting Santa and his crew pull in on an outrigger canoe. The best bit? "Once Santa has toweled off, he'll settle into his beach chair to hear holiday wishes and have a nice long visit with all of the children," says the chamber of commerce site. Yeah, this is not your typical gussy-up-and-head-for-the-mall Santa visit, but it is oh-so-quintessentially Californian. Translation? Pretty freaking awesome and distinctly laid-back in the un-laid-back-iest season of the year. Also, it's free, it's pretty dang sweet, you'll catch some most excellent photos, and you and Surfin' Santa can chill, like, bro-style, if that's your thing, on Capitola's gorgeous waterfront.