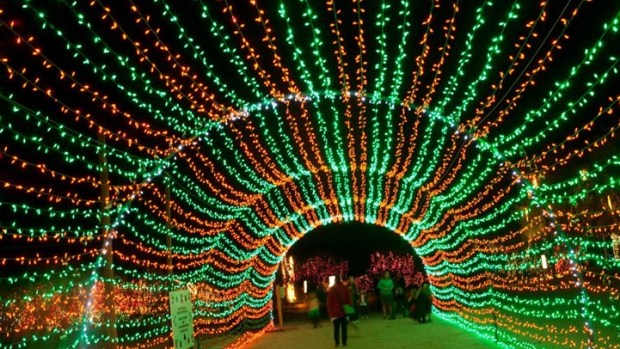 The Living Desert
Holiday bulbs will sparkle at The Living Desert starting on Friday, Nov. 29. The Palm Desert zoo puts on the pretty nighttime event over several nights of the season.
THE LOOK OF CHRISTMAS: The yuletide, whether shown on the front of a greeting card or a cookie tin or on a roll of wrapping paper or in a television special, is typically depicted as one thing above all things: snowy. Snowflakes and snowdrifts and sleds and sleighs and skates rule winter iconography, and Christmas, as we see it all around us in modern times, is very much tied to the symbols of the cold season. But we know in California that the cold season doesn't always bring snowflakes. Chilly nights, yes, and maybe some frost on the cacti, but not skate-ready ponds. Which is one reason we're always cheered when we see our state's desert and beach places -- aka, the traditionally snow-free spots -- take on the symbols of the season. One of the most prominent, or at least glittery examples, is WildLights at the Living Desert. The Palm Desert zoo does it up, yuletide-sparkle-style, every late November and December. In fact, let's just call this a tradition, given that it has been around for over two decades now.
AND... that twinkly tradition continues starting on the Friday after Thanksgiving. Over three quarters of a million lights get looped and twirled around the desert park, meaning a bundled-up after-sunset walk is a pretty lit-up affair. Kidly activities, animal sightings, and a Santa hello are part of the festive deal, too. An adult ticket is ten bucks, kids are less, and it runs for most of December (but you'll want to check the schedule). And while the Living Desert will not boast snow, you'll want to sweater-up, for sure. Even though our more arid climes do not boast that traditional frosty look, the one we so much associate with Christmas, we all know that temps do drop in the desert on a winter's night. Brrrr.