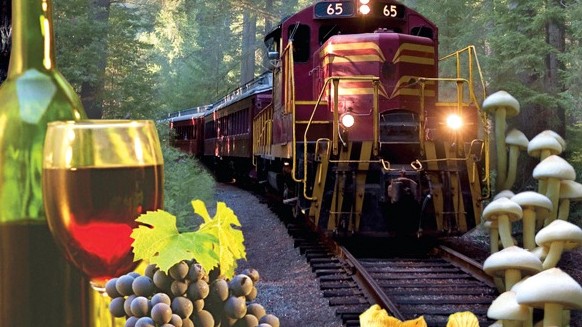 Skunk Train
It's wine and mushroom time on Fort Bragg's Skunk Train. Saturday, Nov. 5.
DANK DELIGHTS: Why does the word "dank" so often arrive weighted with negativity? We love it. We think it summons a cool November day in a redwood-laden forest. There aren't enough dank -- or may we even so danky here? -- outings in this world. But Mendocino's Wine and Mushroom Festival could toss around some danky and no one would question the act. That's because nature-loving mushroom hikes are part of the multi-day celebration, as is a ride on the Skunk Train, which means one thing: forest action. Hello, delightful dank-o-sity. The festival official kicks off on Friday, Nov. 4 and a special, fungi-focused train chugs into the redwoods on Saturday, Nov. 5.
DANK DETAILS: Cost to ride is $125, and included in that price is mushroom cook-off and some fungi and vino match-ups. Plus a ride into the redwoods. Plus, wait for it: a mushroom hike. It's a long day, and if you've ever known the pleasures of the Skunky, factor more time into your outing than you probably did on your previous adventure (hours are 10 a.m. to 6 p.m.). The day also raises funds for a local medical campus, so that's big-hearted. Now. Don't get us wrong. We want fine weather for the riders. We want blue skies. But out among the trees? Yeah, a little danky does a person's soul good, especially when hunting for tasty things growing from the ground.