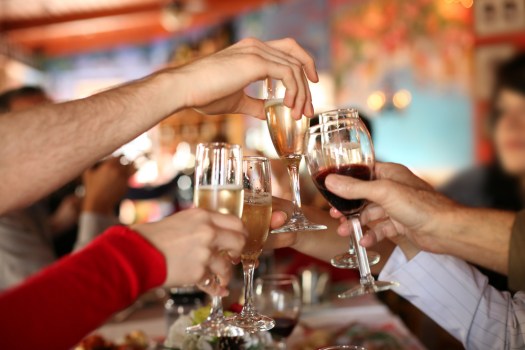 Shutterstock
The SLO Rockin' Harvest heads for Avila Beach and wine tastings aplenty over the Nov. 1-3 weekend.
SLO SOIREE: The SLO Rockin' Harvest is often called one of the Central Coast's most mondo-est wine bashes of the year, and you know that's saying something. Why? Well, the Central Coast hosts a lot of wine bashes. If it is a day of the week, and the sun rose that morning, you can bet someone somewhere is line up a row of freshly dishsoapped glasses and a few bottles of something special. But the SLO Rockin' Harvest is indeed an extra-special-y kind of deal. One? It lands near the close of the harvest season, which lends it an air of a funky after-party, when everyone can breathe a little sigh and let their proverbial hair down. And two? The events are just really solid. They're relaxing and easy and there's a Grand Tasting on Avila Beach, five words in a row which may one day qualify for five of the nicest words to ever appear together. (Honest, we'll probably doodle them down the road, in margins and on notepads, while we deal with difficult phone calls or day-to-day to-dos, because "Grand Tasting on Avila Beach" has a way of instantly calming the heart rate.) The whole shebang, including the Grand Tasting, pours from Friday, Nov. 1 through Sunday, Nov. 3.
ALSO ON THE SCHEDULE... is a road trip, which will include visits to Laetitia Vineyard & Winery as well as Talley Vineyard and Saucelito Canyon Winery. Wine tours at many of the region's wine houses'll take over the final day, with the Grand Tasting happening in the middle of the weekend. And, yep, an auction and "culinary treats" are part of that scene as well. It's pretty Rockin', we'll agree, and we're glad it comes as wine countries are simultaneously rolling up the vines for another year. Well, and preparing for the holidays, which are busy busy busy. Call this party a momentary breath between the two, an easy-breezy outing in one of the easy, breeziest spots on earth.