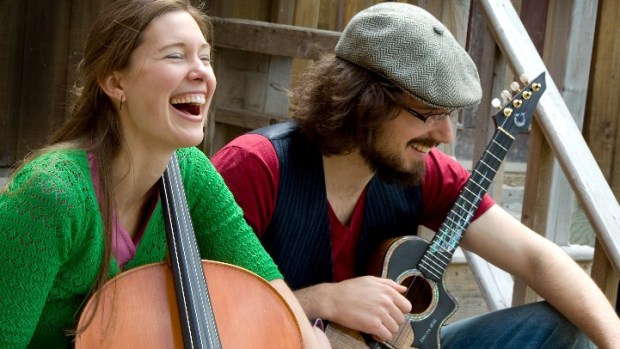 Merna Ryan
James Hill and Anne Davison will open the Wine Country Ukulele Festival on Friday, Sept. 9.
WONDERFUL UKE: How are those ukulele lessons going? What? You wrapped 'em up already? And you're now playing friends' weddings and big parties and you're thinking of laying down a few tracks? Good, good. That means you're ready to jam with some top-notch ukulele players (ukuleleans?) at the Wine Country Ukulele Festival. It's set to strum from Friday, Sept. 9 through Sunday, Sept. 11 in both Napa and St. Helena, and there are a variety of happenings to choose from.
AND THOSE ARE... Jam sessions, for one. The ukulele jam must be a spirit-lifting thing to behold (and belisten, too). Giveaways. A final day jam at Gott's (burgers and ballad, of course). And the opening night show at the Napa Valley Opera House with James Hill & Friends'll get to stirring the big sound stew. That's ticketed -- prices start at $25 -- but Saturday and Sunday are free. That said, there is a wristband option ($15) which throws a few more adds your way. Still thinking about the potential jams you could jump into? Take a look at one from last year. You're intrigued, admit it.