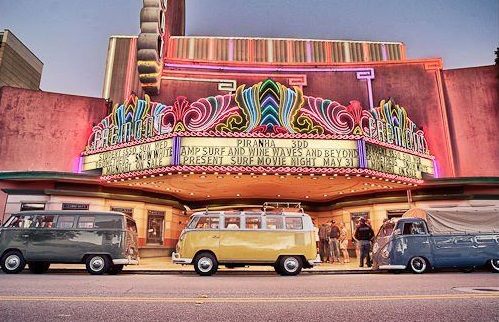 Kamil Konrad
Wine, Waves and Beyond brings some summertime cool to the Central Coast from May 30-June 2.
WE'RE CONVINCED... that if summertime had a winter home, it would probably be in the San Luis Obispo vicinity, or maybe a bit closer to Pismo Beach. If you've been to the Central Coast on a foggy, drippy January day, when people are scarfed-up, there is still kind of a surf-wine-chill vibe that says the spirit of summer is alive, even though the rain may fall. So when summertime actually does arrive in the area, it brings with it a party that is so quintessentially the season that it could go in an encyclopedia just devoted to summertime pleasures. Does it have a surfing element? Yep. Does it have classic old beach-ready cars? For sure. Is there wine and summertime eats? For sure. Is there a movie night devoted to a surfing flick? Heck yeah. Are there drinks on the beach and barbecue to consume and old VWs to admire? We wouldn't have asked if it wasn't so. This is all leading up to us typing the words "Wine, Waves, and Beyond," one of the SLO's funnest annual parties. (And yeah, "funnest" is a term we can totally use when summer arrives, because it just encapsulates so very much.)
DETAILS: The party is on from May 30 through June 2 (so the weekend after Memorial Day Weekend -- we love it when that weekend gets special, too). Proceeds will help AmpSurf, the Association for Amputee Surfers. And the to-dos are plentiful, so if you just want to catch the flick and sip some vino, that's cool. Only buy tickets for the stuff you want to do. It's for a really awesome organization and it summons that California spirit in a way that so many fests go for but don't quite make as fully. Wine, Waves, and Beyond just has that Central Coast summertime je ne sais quoi. No, forget that last part, we know exactly what it is: It brings together some of the warm-weather-elements we're known for here. Why not celebrate those, regularly and boisterously?