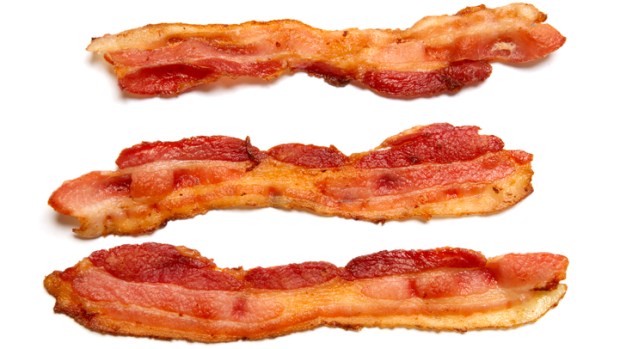 Getty Images
Do you usually do your bacon with a side of coffee or orange juice? There's a new beverage in town that matches with the salty strips well and its name? Cabernet.
SAY NO MORE: There's a good chance that we've all been on the listening-end of a particular kind of conversation. You know the one: Your pal is telling you about a new restaurant and the incredible dish they tried. The moment they tell you the first one or two ingredients you wave your hands, dramatically, and exclaim "that's it, I'm sold, done, I'm going, yes, you had me at ingredient #1 and flavor #2." That's pretty much our reaction, and we'll accurately guess many foodists' response, to seeing the words "Cabernet" and "bacon" pushed side-by-side. It's not a common pairing, no, even with bacon's continued meteoric rise in gourmand circles. The breakfasty strip is still associated with the first part of the day, and the wine is much associated with the later part of the day, and never the tasty twain shall meet.
EXCEPT... when they do. And they shall, in Yountville, on Friday, Nov. 1 and the appropriately named "Cabernet is for Bacon Lovers." The wine country to-do is going down at St. Supery, just a pop north of Yountville. The seated tasting will line up a few Cabs from recent years -- a 2010 Napa Valley Estate Elu is listed as one libation -- and the bites? They're "bacony goodness," of course. Cost is $35 per person, and we should mention this is an afternoon thing. But please: If you ever needed to slip out of work at the end of the week, isn't "I have to go drink some wine and eat bacon" a fine reason to give? You'll make up those extra hours on Monday morning, as you dream back to all of the salty supping and sweet sipping you did north of Yountville. Plus, it is the day after Halloween. A flavor note that's the opposite of all the candy you consumed is a welcome thing come the first day of November.