Jesper Parnevick on Tiger Woods' Wife: "Her Whole World Was Turned Upside Down"
Thursday, Jun 30, 2011 | Updated 11:54 AM PDT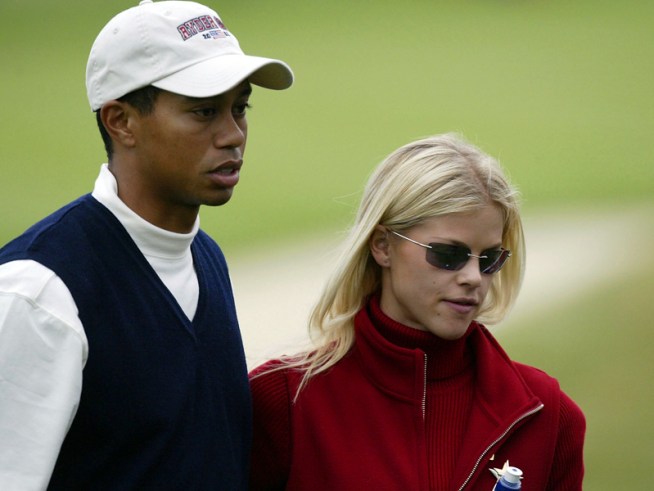 Getty Images
LONDON - NOVEMBER 28: (FILE PHOTO) Tiger Woods of the USA with his girlfriend Elin Nordegren on the 17th green after his defeat during the afternoon foursome matches on the first day of the 34th Ryder Cup at the De Vere Belfry in this September 27, 2002 file photo in Sutton Coldfield, England. A Swedish newspaper reported on November 28, 2003 that world number one golfer Woods is to marry his Swedish girlfriend Elin, a 23-year-old former model. (Photo by Craig Jones/Getty Images)
Jesper Parnevick, the golf star who introduced Elin Nordegren to Tiger Woods has opened up about the guilt he feels for setting his fellow Swede up with Woods.
In a new interview with ESPN's "Outside the Lines, airing on Sunday, Parnevick, said in the wake of the scandal that has rocked Woods, he feels remorseful about stumping for the golfer to his former nanny, Nordegren, in 2001.
VIEW THE PHOTOS: Tiger Woods Scandal: The Players
"I vouched for the guy," Parnevik said. "I told her, 'This is the guy that I think is everything you want. He's true, he is honest, he has great values, he has everything you would want in a guy,' and I was wrong."
Parnevik also offered his insight into how Nordegren might be feeling in the wake of the headlines being garnered by her husband and his many alleged mistresses.
VIEW THE PHOTOS: On The Scene: Tiger Woods' Car Crash (November 27, 2009)
"I'm sure she felt very lonely and very small in this whole hoopla and chaos when her whole world was just turned upside down in pretty much 24 hours," Parnevik said. "I was just shocked and pretty much very disappointed in the whole thing and I just really, truly felt for her and the situation she all of a sudden ended up in."
Related Content from AccessHollywood.com:
VIEW THE PHOTOS: Golf's King Of The Course — Tiger Woods!
PLAY IT NOW: Former Madam: Two Of Tiger's Alleged Women Worked For Me
PLAY IT NOW: Is Tiger Woods' Carefully Crafted Empire Beginning To Crumble?
MORE ACCESS ON THESE TOPICS: Tiger Woods - Elin Nordegren - TV One - ESPN - News