Jim Carrey Debuts Painting On Twitter
Saturday, May 8, 2010 | Updated 5:15 PM PDT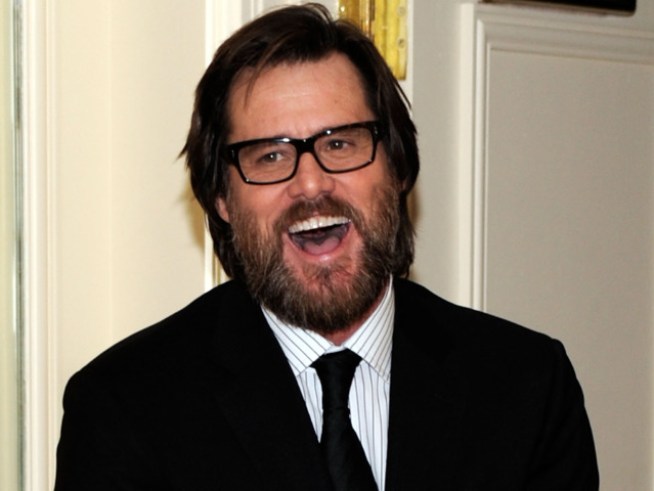 Jim Carrey showed off his artistic talent via Twitter with a twitpic of his painting, "Heart Upon Re-entry".
Jim Carrey may be one of Hollywood's biggest funnymen – but the star took to his Twitter this week to reveal a surprisingly serious side-project.
"A peek at my NY painting 'Heart Upon Re-entry' Acrylic n #BOING on canvass," he Tweeted on Friday, linking to a Twitpic of an abstract work full of fiery red and orange streaks.
Earlier, he pondered the worth of another piece of art.
"Three days ago I watched someone buy a picasso at Christies here in NY for 106.5 million. I wonder what it's worth today!" Jim Tweeted.
It wasn't the first time the actor had discussed his painting projects. In a 2008 interview with Oprah, he said that he'd given then-girlfriend Jenny McCarthy a portrait of herself.
"I did a painting for Jenny and it took me 50 hours," he said, adding that he typically painted "mostly nudes."
Related Content from AccessHollywood.com:
VIEW THE PHOTOS: Photo Fun With Hollywood's Hottest Comedians!
VIEW THE PHOTOS: Hollywood's Man Of Many Funny Faces — Jim Carrey
PLAY IT NOW: Jim Carrey & Jenny McCarthy Announce Breakup Over Twitter
PLAY IT NOW: Access Extended: 'Yes Man' Premiere, Los Angeles
MORE ACCESS ON THESE TOPICS: Jim Carrey - Movies - Comedians - Jenny McCarthy - Twitter