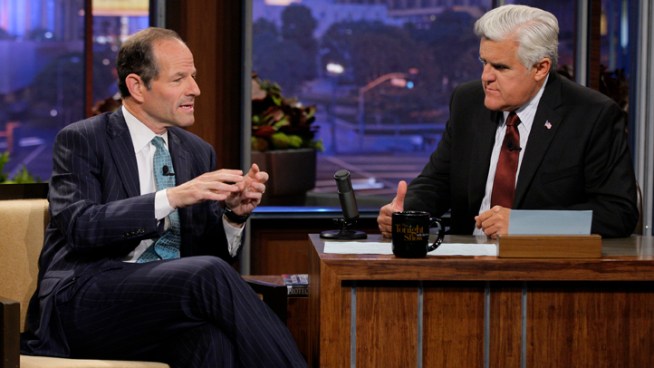 AP
This publicity image released by NBC shows former New York Gov. Eliot Spitzer, left, talking with host Jay Leno during a taping of "The Tonight Show with Jay Leno," Friday, July 12.
Eliot Spitzer says he is trying to revive his political career and running for New York City comptroller because he cares about public service.
The former New York governor appeared on "The Tonight Show with Jay Leno" in California on Friday night.
Spitzer, who resigned amid a prostitution scandal in 2008, told Leno that his public downfall was "incredibly painful" and said he had been infected with hubris.
He also touted his record of pursuing financial crimes as the state's attorney general, saying "Wall Street desperately wants me to lose."
Spitzer met a Thursday night deadline to file thousands of signatures in his bid to return to public office. He submitted more than 27,000 signatures to the city Board of Elections. He needed 3,750 valid signatures.